Welcome to Thursday Quotables! This feature is the place where you highlight a great quote, line or passage you've discovered in a book you're currently reading. Whether it's something heart-warming, heart-breaking, funny or inspiring, Thursday Quotables is where my favourite line(s) of the week will be, and I invite you to join in! It's hosted by Lisa at BookShelf Fantasies, so be sure to check her out :)
The book I'm reading this week is Jesse's Girl by Miranda Kenneally. It's a cute contemporary read about one girl's dream to be a muscian. She gets to follow one of Nashville's most popular singers around for a day, but seeing him get everything reminds her of everything she doesn't have. I've only just started this book, but it's from a cute series and I'm really liking the characters.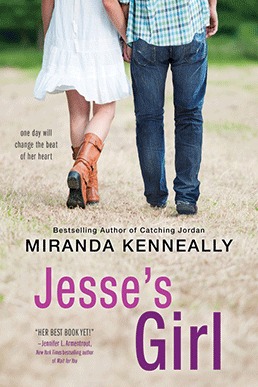 "What is it with me and guys? Do I come on too strong? Why do none of them want to stick around? I'm gonna be 40 years old and out on a date with some man, and we'll make out, then he'll tell me we're not to be, and I'll go home to my 14 cats."
This qute isn't exactly inspiring, but I think it's quite true in that it's an insecure feeling we all have of being rejected. Only I'd have 14 dogs instead of cats, haha.
Have you read this book? What quotes grasped your heartstrings this week? Let me know in the comments below!