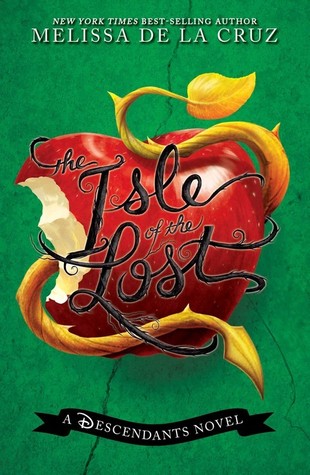 Book
: The Isle of the Lost, Melissa De La Cruz
Publisher
: Disney-Hyperion
Release Date
: May 5th, 2015
This book was cute. Loving Disney as much as I do, I was intrigued by what the writer could do with the infamous villains' children. Would she make them clones of their parents? Or would they want to do good in this world, not bad? And I loved all the references to both the Disney villains and the princes and princesses. You can tell the author loves Disney just as much as me! I also liked how she gave everyone different personalities and showed how the villains, like Maleficent, Jafar and the Evil Queen changed twenty years after being foiled by the good guys.
Belle and Beast are the King and Queen of the USA – the United States of Auradon. Here, all the characters from the beloved Disney movies reside – Sleeping Beauty and Philip, Snow White, Cinderella, Rapunzel, Tiana, Aladdin. They all live happily with their children. However, Beast exiles all the villains to the Isle of the Lost, the leftover island. All the leftovers from USA, whether it's food, bad TV programmes or uncomfortable furniture gets dumped on this island. And there's no magic so the villains can't try and magic spells to escape.
Mal, the daughter of Maleficent is the first character introduced. We also have Jay, the son of Jafar, Carlos, the son of Cruella De Vil, and Evie, the daughter of the Evil Queen. All they know is acting badly. Stealing, pulling pranks, deceiving everyone around them. They don't understand what it's like to have friends or live comfortably. What I noticed, actually, is that all they want is their parents' approval. After their parents' epic failures as evil masterminds, it's up to the next generation to succeed where they failed. And all this pressure is getting to our main characters, up to a point that they will look for an object that is impossible to find just to see their parents look at them with pride instead of disappointment.
We also get a look at Ben, the son of Belle and Beast and the next heir to the throne of USA. He's struggling to live up to his father's name as the next King, and rule in a way that works for him. I loved the personalities of the children in this book; they weren't clones of their parents but were still quite unique and special.
The only problem is that this book is a prequel to a Disney Channel Original Movie, and they are always made for a younger audience, so this book was written to suit that age group as well. The story was quite simple and the dialogue had no big words either. However it was still quite cute and I still enjoyed all the Disney references.
Pick it up if you enjoy Disney and have always pictured what the children of villains were like.