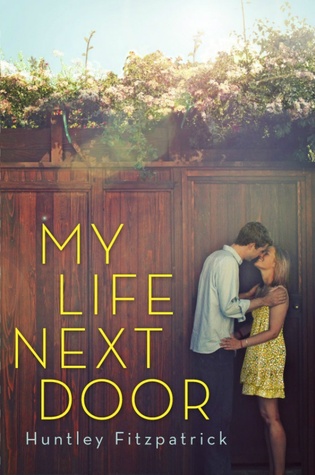 Book
: My Life Next Door, Huntley Fitzpatrick
Series
: My Life Next Door #1
Release Date
: June 14th, 2012
5 stars
One of my favourite things about contemporary books is the relatability in them. The main character is someone completely ordinary. She doesn't have any special powers, doesn't live in a world full of people with special powers or different species and doesn't meet someone with special powers. Due to her ordinariness, this makes her even more compatible with the reader. It's much easier to close our eyes and picture ourselves in her shoes, thinking the same things, making the same decisions, falling for the same person. She's totally relatable.
Our main character this time is Samantha. She comes from a household that is very structured. Her mother is a perfectionist with a touch of OCD – the kind who vacuums three times a day and takes out the duster if she sees a speck on the mantelpiece. She makes sure that Samantha's life is just as structured by creating a rota that keeps Samantha busy with jobs all throughout the summer.
Next door are the Garrett's. They're everything Samantha's home is not – noisy, boisterous, messy, out of order, full of life. Eight kids, no structure, just a lot of laughter. Samantha is fascinated by her neighbours, but it's not until she starts talking to Jase, Garrett number three, that her summer begins to change in every way she never possibly imagines.
The romance is everything first love should be – it's adorable, clumsy, awkward, and full of hope for the future. There's no telling they'll last forever but you hope they will.
"We lie back, hand in hand, look out over the ocean, and watch the sun rise over the roof of the world."
Spending time with the Garrett's makes Samantha realise the important things in life – how important family is, and discovering just how far you're willing to go to protect them, even if you're unsure if they've done the right thing.
I would recommend this book to those looking for a nice, easy read with mature, likable characters that will make you laugh out loud more than once. It has a story that will make you think with good morals and can incorporate into your own life. It also has the best four-year-old in existence called George. He by far had the best lines and I smiled every time he appeared. Read this book for him alone. I will finish with two of my favourite quotes from him:
"Is Jase already gonna marry you?"
I start coughing again. "Uh, No. No, George. I'm only seventeen." As if that's the only reason we're not engaged.
"I'm this many." George holds up four, slightly grubby fingers. "But Jase is seventeen and a half. You could. Then you could live in here with him. And have a big family."
Jase strides back into the room, of course, midway through this proposition. "George. Beat it. Discovery Channel is on."
George backs out of the room but not before saying, "His bed's really comfortable. And he never pees in it."
"I might marry you," he allows. "Do you want a big family?" I start to cough and feel a hand pat my back.
"George, it's usually better to discuss this kind of thing with your pants on."