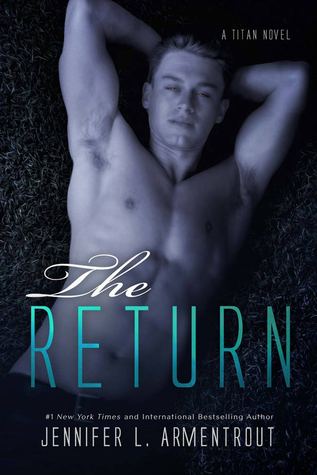 Book:
The Return, Jennifer L. Armentrout
Publisher
: Spencer Hill Press
Release Date
: February 16th, 2015
The Fates are cackling their bony asses off…
It's been a year since Seth made the deal with the gods that pledged his life to them. And so far, the jobs they've given him have been violent and bloody–which is kind of all right with him. But now Apollo has something else in mind for Seth. He's got to play protector while keeping his hands and fingers off, and for someone who really has a problem with restraint, this new assignment might be the most challenging yet.
Josie has no idea what this crazy hot guy's deal might be, but it's a good bet that his arrival means the new life she started after leaving home is about to be thrown into an Olympian-sized blender turned up to puree. Either Josie is going insane or a nightmare straight out of ancient myth is gunning for her.
But it might be the unlikely attraction simmering between her and the golden-eyed, secret-keeping Seth that may prove to be the most dangerous thing of all.
Because history has once again been flipped to repeat.
Book 1 in the new adult paranormal TITAN series, spin-off to the best selling COVENANT series.
Rating: 5 stars
I adored Seth in the Covenant series, and was so happy to have a spin off series dedicated entirely to him! And by God, this book was just amazing. It's definitely NA, not YA, so younger readers, beware.
This book reminded me a little of Obsession, the stand-alone novel to JLA's Lux series. In that NA book, our main character, an Arum, is tasked with looking after a human who fell into their world. This book is similar – Seth is tasked with guarding Josie, a mortal with no prior knowledge to this world of Gods, pures, halfs and Apollyons, but is still incredibly important.
This book is dual POV between Seth and Josie, which I was not expecting but still loved. JLA did a great job of giving us an insight into both characters while not repeating scenes or dialogue. And I absolutely adored Josie from the first moment I met her. She's the complete opposite to Alex – she has no fighting skills, she thinks before she acts, she thinks rationally. Yet, I found myself relating to her a lot more than I did Alex. Maybe it was the fact that Josie was human and acted human. There was something so incredibly likable about Josie's character.
And may I just say that her and Seth's relationship was the absolute best part of this entire book? My God, they made this book so fantastic. Whether it was their banter, arguments, sexy moments or those downright heart-breaking touching moments, it was flawless. Seth is still feeling a lot of regret and shame for his actions in the Covenant books, and doesn't believe he's worth anything. But Josie, being an incredibly understanding mortal, doesn't turn away when she finds out about Seth's super-dark past. Instead, she takes his hands and says the words that allow him to move forward: "You are not just the Apollyon."
I definitely prefer this book to the Covenant series. Even though it's the same world and the same author for both series, there is something about this book that grabbed a hold of me and made me way more invested than the Covenant series. Whether it's Josie's relatability or the fact that I was Team Seth for the Covenant books, I just couldn't get enough.
I would recommend this to those who loved JLA's Covenant series and lovers of paranormal and romance. You don't actually have to read the Covenant series before this as Jen provides a lot of info about what happened in those books, but I would still recommend that you do! And just be warned that this book is NA, not YA, for those who are picky about genres.