Thanks to Fiona from A Girl Between the Pages and Carrie from A Book Goddess for nominating me for this award! I've been meaning to do it for ages but just haven't had the time, sadly :( I'm ready now though! Thanks for the nomination, my lovelies.
So this is the challenge. You have to choose some books that you've never read, haven't even heard of, and guess what they're about simply by their covers. Once you've done guessing, post the actual blurb from Goodreads and see how awful/amazing you've done. I'm going to choose 5 books.
Let's go!
My Guess:
Well, it's about a really hot angel with great abs who can shoot arrows. An angelic Katniss Everdeen! And we have a female protagonist who inevitably falls for the handsome arrow-shooting angel and has to help save the world (and his world, maybe) from perishing in fire.
Goodreads Blurb:
Jenny is a beautiful young businesswoman. She lives in an Italian tourist town where she owns a shop. Her need for independence is her strength, but her innate distrust sometimes creates problems with others.
One day she encounters love. More than an encounter, it's a collision, a head-on collision. Her heart isn't Eros's only target, and everything changes …
Police begin investigating suspicious events around her, slowing down the construction of a new great hotel in town and rocking her life even more.
Result:
I was all wrong, oops! I don't think he's an angel at all, more like Cupid, lol :P And no saving his world!
My Guess:
Our main character is a geeky girl, but is incredibly insecure in herself. Then she starts tutoring a classmate who's a troublemaker and about to be expelled, and they fall for each other and help each other overcome their fears.
Goodreads Blurb:
Harriet Manners knows a lot of things.
She knows that a cat has 32 muscles in each ear, a "jiffy" lasts 1/100th of a second, and the average person laughs 15 times per day. What she isn't quite so sure about is why nobody at school seems to like her very much. So when she's spotted by a top model agent, Harriet grabs the chance to reinvent herself. Even if it means stealing her Best Friend's dream, incurring the wrath of her arch enemy Alexa, and repeatedly humiliating herself in front of the impossibly handsome supermodel Nick. Even if it means lying to the people she loves.
As Harriet veers from one couture disaster to the next with the help of her overly enthusiastic father and her uber-geeky stalker, Toby, she begins to realise that the world of fashion doesn't seem to like her any more than the real world did.
And as her old life starts to fall apart, the question is: will Harriet be able to transform herself before she ruins everything?
Result:
Wow, I suck at this. No tutoring, I'd have never guessed it was a model story! *clears throat* moving on...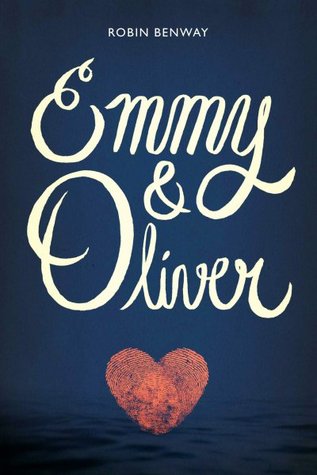 My Guess:
A love story between Emmy and Oliver. Maybe a little like Eleanor and Park?
Goodreads Blurb:
Emmy's best friend, Oliver, reappears after being kidnapped by his father ten years ago. Emmy hopes to pick up their relationship right where it left off. Are they destined to be together? Or has fate irreparably driven them apart?
Emmy just wants to be in charge of her own life.
She wants to stay out late, surf her favorite beach—go anywhere without her parents' relentless worrying. But Emmy's parents can't seem to let her grow up—not since the day Oliver disappeared.
Oliver needs a moment to figure out his heart.
He'd thought, all these years, that his dad was the good guy. He never knew that it was his father who kidnapped him and kept him on the run. Discovering it, and finding himself returned to his old hometown, all at once, has his heart racing and his thoughts swirling.
Emmy and Oliver were going to be best friends forever, or maybe even more, before their futures were ripped apart. In Emmy's soul, despite the space and time between them, their connection has never been severed. But is their story still written in the stars? Or are their hearts like the pieces of two different puzzles—impossible to fit together?
Readers who love Sarah Dessen will tear through these pages with hearts in throats as Emmy and Oliver struggle to face the messy, confusing consequences of Oliver's father's crime. Full of romance, coming-of-age emotion, and heartache, these two equally compelling characters create an unforgettable story.
Result:
Well, not exactly like Eleanor and Park but it does seem to be of the same heart-wrenching emotional intensity!
My Guess:
I think it's a fantasy novel about a girl who hunts zombies or other deadly creatures that appear in the night.
Goodreads Blurb:
Lately, life has been unnaturally calm for vampires Cat Crawfield and her husband Bones. They should have known better than to relax their guard, because a shocking revelation sends them back into action to stop an all-out war…

A rogue CIA agent is involved in horrifying secret activities that threaten to raise tensions between humans and the undead to dangerous heights. Now Cat and Bones are in a race against time to save their friends from a fate worse than death… because the more secrets they unravel, the deadlier the consequences. And if they fail, their lives—and those of everyone they hold dear — will be hovering on the edge of the grave.
Result:
I was half-right about the fantasy part, at least!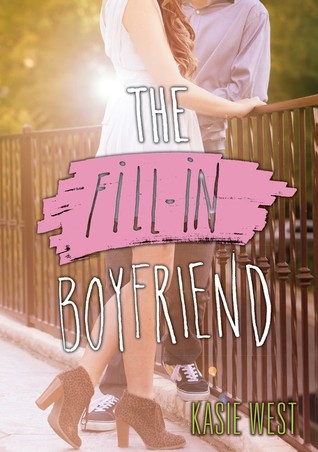 My Guess:
I've seen this book a lot lately, but I actually can't remember what it's about! From the cover, the pink makes it seem like a super cute contemporary read where love conquers all. Maybe a rebound boyfriend turns out to be "the one"?
Goodreads Blurb:
When Gia Montgomery's boyfriend, Bradley, dumps her in the parking lot of her high school prom, she has to think fast. After all, she'd been telling her friends about him for months now. This was supposed to be the night she proved he existed. So when she sees a cute guy waiting to pick up his sister, she enlists his help. The task is simple: be her fill-in boyfriend—two hours, zero commitment, a few white lies. After that, she can win back the real Bradley.
The problem is that days after prom, it's not the real Bradley she's thinking about, but the stand-in. The one whose name she doesn't even know. But tracking him down doesn't mean they're done faking a relationship. Gia owes him a favor and his sister intends to see that he collects: his ex-girlfriend's graduation party—three hours, zero commitment, a few white lies.
Just when Gia begins to wonder if she could turn her fake boyfriend into a real one, Bradley comes waltzing back into her life, exposing her lie, and threatening to destroy her friendships and her new-found relationship.
Result:
Contemporary read, true love conquers all for the win! Rebound was wrong though.
All right, I'm not great at this but that was still fun! :D I'm going to nominate these two in response:
Naban @ Quite Literary
Jess
@
Little Book Heaven
And anyone else who feels like doing it!