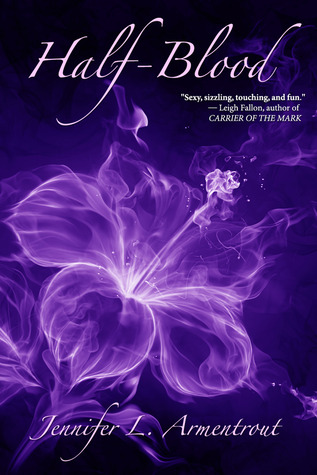 Book
: Half Blood, Jennifer L. Armentrout
Series
: Covenant series #1
Publisher
: Spencer Hill Press
Release Date
: October 18th, 2011
I tried reading this book previously but had to give up about 20% in because I couldn't stand that it was so similar to Vampire Academy by Richelle Mead. However, everyone I know adores this book and puts it in their top list of favourite book series. And I adore Jennifer's writing, so decided to give this book another go.
And honestly? I'm glad I did. While it was hard at first to not notice the similarities between the two series, Jen also made the story enjoyable enough and made the characters so likable that I was able to really invest myself into the book and realised that I was so dumb for not reading this series sooner! Jen, I'm sorry for doubting you.
There are two different species in the Covenant world. There are the Hematoi, also known as the purebloods, who are born from Gods and mortals. The half-bloods are the children of purebloods and mortals. Alex is a half. This means that she has two options: train to become a Sentinel, a guardian to the purebloods, or become a servant in their home. Alex has no desire to become a servant anywhere, so she's determined to graduate and become an ultra-powerful Sentinel. However, she's been away from the school for three years, so when she eventually comes back, she's way behind her classmates. So Aiden, a super-hot, super-buff, super-powerful Pure decides to train her for the summer so that she'll be caught up to her classmates when school starts again.
I will admit, some parts of the story were predictable, even if I hadn't read the VA series. Alex and Aiden completely fall for each other even though it's forbidden, and I was able to guess other plot twists easily enough. However, it didn't make the story any less enjoyable.
Alex was a great heroine. She's snarky, sarcastic, funny, lovable, and a complete badass. She also hates rules, and tries to break as many as she can. The major one is the first rule she broke: half-bloods are not allowed to get romantically involved with a pureblood. She and Aiden were amazing together, and they suit each other so well. They both had something horrific happen to them, and they're able to get each other in a way no one else can. I can't wait to see their relationship develop (and get a lot more sexy scenes!)
We also meet Seth. He's an Apollyon – a half-blood who is incredibly powerful as he can control all the main elements, something only pures can do. Apollyons are only made once a generation, but we discover he and Alex are connected in a way no one expected (but I totally guessed!) He was really funny and totally full of himself. I can't wait to see him more in the coming books.
This series has a lot of promise and I can't wait to see the characters grow and develop. I'd definitely recommend it to anyone who loves Jennifer's books and paranormal romance.