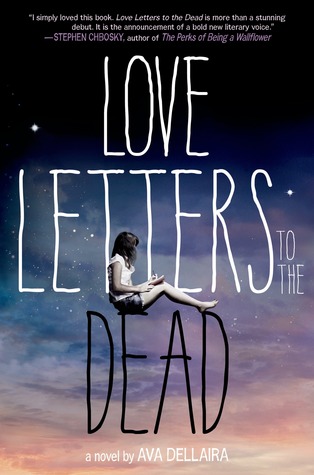 Book
: Love Letters to the Dead, Ava Dellaira
Publisher
: Farrar, Straus and Giroux
Release Date
: April 1st, 2014
Rating: 4 stars
I've been reading a lot of paranormal/fantasy books lately: vampires, aliens, gargoyles, angels, demons, faeries. And in those books, there's nearly always an end-of-the-world problem, an epic love story and badass characters. So to go from those stories to something like Love Letters to the Dead, the change is fairly drastic. This book doesn't have any paranormal elements to it. The love story isn't an epically huge one that defies all odds and expectations. There's no end of the world.
However, that doesn't mean it's not important, or well worth the read. It's still really powerful in its emotional intensity. It's about a young girl, Laurel, who's only fifteen, and is still coming to terms with her older sister's untimely death. She finds writing to dead celebrities helps her deal with her grief by telling them about her life – her family, making new friends, starting high school, falling in love. Yet, through these mundane experiences, we come to discover who Laurel really is.
Throughout her whole life, Laurel looked up to her older sister, May, like a role model. She wanted to be just like her and copied everything she did. To Laurel, May was perfect and had no faults. After she died, this became especially important, as you can't really say anything bad about someone who passed. Throughout the book, Laurel comes to realise that no one is perfect, not even May. She learns to become her own person and be proud of her individuality.
The book is set over Laurel's first year of high school. We see her meet new friends, Natalie and Hannah, who help mould and shape Laurel into the person she becomes at the end. Natalie and Hannah have their own problems they have to overcome, and the ways they do that influences Laurel in her choices.
We also see her find love in Sky, a boy who knew May in a way Laurel didn't. Even though it's obvious Laurel and Sky really care about each other, Laurel finds it really hard to express how she feels inside, which drives Sky away. Their love isn't epic and perfect; its first love between two young people who have no idea how to express themselves. I loved how they both helped each other face their problems, and at the same time, I loved how realistic the author made their relationship. It wasn't love at first sight, and there wasn't some driving force that required them to be together. You don't know if they'll be together forever. But for now, what they have is enough.
Laurel also talks about her unorthodox family, and how they're coping with May's death. Her parents' already broken marriage is made worse with the death of a child. Her father only works and watches baseball, although you can tell he still loves Laurel and wants to make things right by her, his only remaining daughter. Laurel's mother, however, ran from her grief by leaving her family behind. Even though she calls Laurel, Laurel can't help feeling abandoned when she needed her mother most.
This book deals with some very difficult themes, about the mystery that is life and death and dealing with your inner turmoil when someone really close to you dies. It also made me think of the relationship with my sister, and how important she is to me.
I would recommend this to those who enjoyed Gayle Forman's If I Stay, and Stephen Chbosky's The Perks of Being A Wallflower. However, I would also recommend this to those who are struggling with a difficult loss in their lives, as Laurel's voice is one that cuts deep into one's soul.