Welcome to Thursday Quotables! This feature is the place where you highlight a great quote, line or passage you've discovered in a book you're currently reading. Whether it's something heart-warming, heart-breaking, funny or inspiring, Thursday Quotables is where my favourite line(s) of the week will be, and I invite you to join in! It's hosted by Lisa at BookShelf Fantasies, so be sure to check her out :)
The book I'm reading this week is All The Bright Places by Jennifer Niven. It's an incredibly emotional story about a girl who learns to live from a boy who intends to die. It's both happy and sad at the same time, and I'm also laughing a lot through it. It's going to be really hard to finish, I'll tell you that much. The quote I've chosen this week is a question Finch asks Violet, the two main characters. Finch looks at life differently to us, in a way that will make you look at yourself in the grand scheme of things.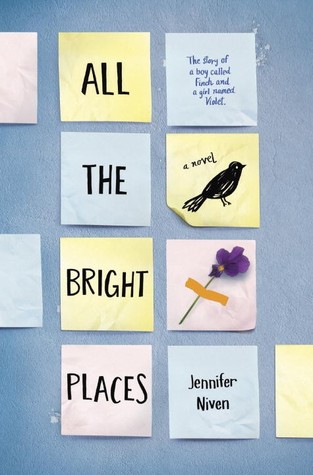 "Let me ask you something. Do you think there's such a thing as a perfect day?"
"What?"
"A perfect day. Start to finish. When nothing terrible or sad or ordinary happens. Do you think it's possible?"
"I don't know."
"Have you ever had one?"
"No."
"I've never had one either, but I'm looking for it."
This makes me think of what exactly a perfect day is, and if I've ever had one and not realised it.
Have you read these books? What quotes grasped your heartstrings this week? Let me know in the comments below!