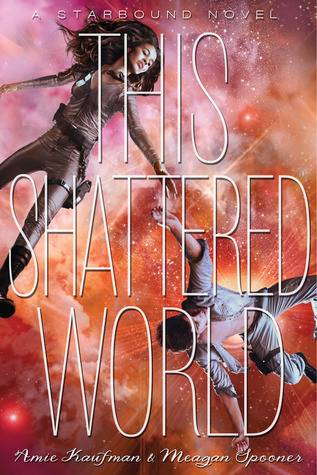 Book
: This Shattered World, Amie Kaufman & Meagan Spooner
Publisher
: Disney Hyperion
Release Date
: December 23rd, 2014
The beginning of this book reminded me a lot of Scarlet from The Lunar Chronicles series – it was a different story with different protagonists, and I resented that at first. I wanted to read more about Tarver and Lilac, not these two different people, just like I resented Cinder not being the main character in Scarlet. But, just like in Scarlet, I came to really love Flynn and Jubilee's characters, if not more than Tarver and Lilac.
Just like in These Broken Stars, the book has dual points of view between our two main characters, which I loved as it really added depth and allowed the readers to really get a glimpse of exactly how Flynn and Jubilee felt about each other.
All Flynn and Jubilee have known their entire lives is war. They come from two different sides of war on their planet Avon – Flynn is a rebel who wants to live in peace with his people, while Jubilee is a soldier who follows orders as she knows it's what's best for the civilians on the planet. What neither of them realise is that they're part of a much bigger war with a different and much more dangerous enemy. They have to learn to work together to defeat this enemy to bring peace to their planet.
Romance wasn't a huge aspect of this book, however Flynn and Jubilee grow to genuine care for each other and open their hearts to the possibility of love. They know that they're most likely going to die young, and are realistic about their chances of actually getting together. But that doesn't stop them from helping each other out while getting in a few make out sessions in their spare time.
Mystery and action was the main aspect of this book, and there was enough in it to keep me invested, while I taught up theories and gasped when the mysteries were solved.
The story developed incredibly nicely, and I loved how it tied up with Tarver and Lilac's story. Their minor role was simply perfect and I know we'll see more of them in the final book.
Flynn and Jubilee's story finished here in a great way, but the overall story isn't finished yet, and I can't wait to meet our new protagonists in the final book and see all our characters come together to defeat LaRoux Industries once and for all.