Welcome to Thursday Quotables! This feature is the place where you highlight a great quote, line or passage you've discovered in a book you're currently reading. Whether it's something heart-warming, heart-breaking, funny or inspiring, Thursday Quotables is where my favourite line(s) of the week will be, and I invite you to join in! It's hosted by Lisa at BookShelf Fantasies, so be sure to check her out :)
The book I'm reading this week is Simon vs. the Homo Sapiens Agenda by Becky Albertalli. It's an amazing stand-alone contemporary read by a first-time author. It tells the story of Simon, who is gay, and an adorable online romance with a boy called Blue whom he emails constantly. This book has me smiling constantly, I love it.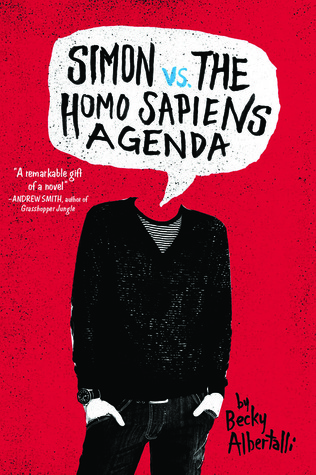 "Why is straight the default? Everyone should have to declare one way or another, and it shouldn't be this big awkward thing whether you're straight, gay, bi, or whatever. I'm just saying."
"White shouldn't be the default any more than straight should be the default. There shouldn't even be a default."
I love these quotes, because of the amount of truth in it. Whenever I see something in the paper that says "first gay man to do blank" or "first woman to do blank" or "first black man to do blank", I always wonder why is their sex or race or sexual orientation a factor here? There's never a "first white man to do blank", it's always just "man". This book has really opened my eyes to the prejudice gay people get, and how terrifying it can be to come out to someone. I would definitely recommend this book to anyone who hasn't read it, it's amazing!
Have you read this book? What quotes grasped your heartstrings this week? Let me know in the comments below!