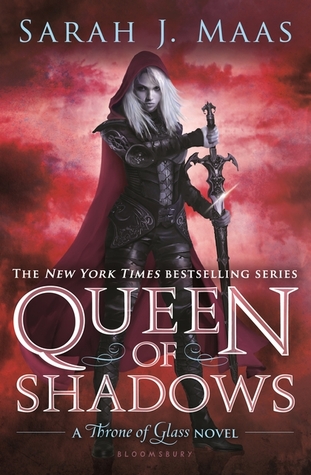 Book
: Queen of Shadows, Sarah J. Mass
Series
: Throne of Glass #4
Publisher
: Bloomsbury USA
Release Date
: September 1st, 2015
The queen has returned.
Everyone Celaena Sardothien loves has been taken from her. But she's at last returned to the empire—for vengeance, to rescue her once-glorious kingdom, and to confront the shadows of her past . . .
She has embraced her identity as Aelin Galathynius, Queen of Terrasen. But before she can reclaim her throne, she must fight.
She will fight for her cousin, a warrior prepared to die for her. She will fight for her friend, a young man trapped in an unspeakable prison. And she will fight for her people, enslaved to a brutal king and awaiting their lost queen's triumphant return.
The fourth volume in the
New York Times
bestselling series contrinues Celaena's epic journey and builds to a passionate, agonizing crescendo that might just shatter her world.
Oh, where do I begin? After the epic roller coaster of feels Heir of Fire took us on, I opened this book fully expecting 656 pages of tears, pain, rage, angst, joy, romance. And of course, this being the Throne of Glass series, and Sarah J Maas, this is exactly what I got and so much more.
Celaena
Aelin has finally accepted her past and her true role as Queen of Terrasen. Now she's ready to defeat the evil tyrant King, win back her kingdom, and face her past as the book-loving, vicious, badass assassin we all love. Even though she's left her assassin life behind, this hasn't made her any less unwilling to kill anyone who gets her in her way and let everyone know she's no pushover. She's gone through so much character development in the last two books, it's almost like we're reading about a different character. And in a way, we are. Celaena Sardothien doesn't exist anymore. Only a true Queen exists now, and I love how much she embraced her true title. I also loved how much she remembered her past in this book; her love for Sam, as well as the ten years she spent as an assassin with Arobynn Hamel. She accepted this part of herself without regret or hate; that her love for Sam and the training with Arobynn all shaped Aelin into a warrior queen and what will make her a terrific ruler.
We also can't forget the men who will stand by Aelin's side no matter what.
Her relationship with Chaol seemed to have suffered while she was away training, but the circumstances they face together really help their relationship and I think really improve it for the better. They've come to truly respect each other's skills and how important each of them is to the overall cause. I loved his loyalty and dedication to Dorian, and seeing just how far he was willing to go to save him. They have a friendship one should strive for!
Dorian broke my heart in this book as he struggled for control against the evil inside him. He is going to be facing a lot of turmoil in the following book, but with Aelin and Chaol's support, I think he can come out fighting on the other side and move past the pain he's currently facing right now.
Aedion Ashryver is the incredibly loyal Demi Fae Warrior and cousin to Aelin. I knew their reunion was coming up in this book and it was everything I'd hoped for and more. They hadn't seen each other for ten years and I loved his devotedness to her.
And we can't forget Rowan, now can we? Our favourite Fae prince makes an amazing return in this book, and his relationship with Aelin was just brilliant. I said in my review for Heir of Fire that they were my favourite non-romantic couple of the series and they proved why with some of their scenes in this book. Between their consistent teasing of each other, inside jokes and seeing just how far they'll go to protect each other, I loved them. They have quite a development in this book that at first I wasn't sure about, but towards the end I absolutely loved.
Manon Blackbeak also makes a return as the cruel, vicious but ultimately kind witch and Wing Leader of her clan. While I wasn't sure about her in Heir of Fire, I came to love her POV and how much she developed. While she thought blind obedience was all that mattered, she meets someone who teaches her about something even more important: hope.
Thankfully this book doesn't end on a cliff-hanger, but that won't make me any less desperate for the next book in this series! It was still utterly perfect, but this was a whirlwind journey of emotion that won't be forgotten any time soon. I can't wait to see what's in store for these characters in the next one!