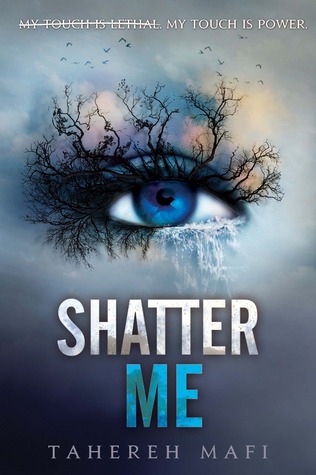 Book
: Shatter Me, Tahereh Mafi
Publisher
: Harper Collins
Release Date
: October 2nd, 2012
Juliette hasn't touched anyone in exactly 264 days.

The last time she did, it was an accident, but The Reestablishment locked her up for murder. No one knows why Juliette's touch is fatal. As long as she doesn't hurt anyone else, no one really cares. The world is too busy crumbling to pieces to pay attention to a 17-year-old girl. Diseases are destroying the population, food is hard to find, birds don't fly anymore, and the clouds are the wrong color.

The Reestablishment said their way was the only way to fix things, so they threw Juliette in a cell. Now so many people are dead that the survivors are whispering war – and The Reestablishment has changed its mind. Maybe Juliette is more than a tortured soul stuffed into a poisonous body. Maybe she's exactly what they need right now.

Juliette has to make a choice: Be a weapon. Or be a warrior.
This book has been on my TBR list for MONTHS now, and I FINALLY got a chance to read it. And I'm so glad I did! This book is spectacular. The description used by Mafi is wonderfully used, the characters are incredibly well-written, the story is unique, and the mystery surrounding Juliette is totally intriguing. There's nothing bad I can say about it!
Juliette has been in confinement for 264 days. She's hasn't spoken to anyone or had any sort of human contact for that amount of time. All she can do is sit, wait and write. We discover throughout the course of the book why Juliette is afraid to touch anyone, as she has incredibly mysterious-yet-powerful powers that will hurt anyone she touches. However, there is always someone ready to exploit someone's abilities if it means more power, so it isn't long before Juliette is taken out of confinement by a man hoping to use Juliette to make himself more powerful. This man is called Warner. At first he seems like a total jerk, douche and a creep. However, as Juliette is forced to spend more time with him, we learn a little bit more about his character, and even though he's still universally a douche, you also can't help feeling a bit sorry for him. I couldn't help being intrigued by him, to be honest. I can't wait to see more of him in the coming books.
Another main character introduced is Adam. He's a soldier under Warner, and is chosen by Warner to babysit Juliette as they knew each other as kids and had a special bond. I loved their chapters together, and how he helped Juliette realise that even though her powers mean she can be a monster, what makes her stand out is her choice not to be.
I think Warner and Adam are both very interesting as they both come from crappy families with unreliable fathers and unknown mothers, and yet they turned out so incredibly differently. I can't wait to see Mafi expand on this in the coming books.
And I've said it before and I'll say it again, the writing in this book is spectacular. It's incredibly original, something I'd never read before, and it totally urged me to keep reading even when the story lagged a little. It's a little hard to describe, so I'll just provide some examples:
"I'm oxygen and he's dying to breathe."
"I always wonder about raindrops.
I wonder about how they're always falling down, tripping over their own feet, breaking their legs and forgetting their parachutes as they tumble right out of the sky toward an uncertain end. It's like someone is emptying their pockets over the earth and doesn't seem to care where the contents fall, doesn't seem to care that the raindrops burst when they hit the ground, that they shatter when they fall to the floor, that people curse the days the drops dare to tap on their doors.
You see? I feel like I can just picture everything she's writing, and it's so mesmerizing.
I cannot wait to continue this trilogy and find out what happens to these characters. I want to know more about Juliette's powers, Warner and Adam's characters, the war that's currently waging in their world. I would definitely urge you to read it if you love fantastical, X-Men-type-powers, wonderful characters and completely original writing.