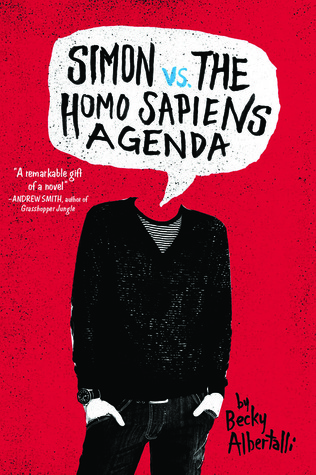 Book
: Simon Vs The Homo Sapiens Agenda, Becky Albertalli
Release Date
: April 7th, 2015
Sixteen-year-old and not-so-openly gay Simon Spier prefers to save his drama for the school musical. But when an email falls into the wrong hands, his secret is at risk of being thrust into the spotlight. Now Simon is actually being blackmailed: if he doesn't play wingman for class clown Martin, his sexual identity will become everyone's business. Worse, the privacy of Blue, the pen name of the boy he's been emailing, will be compromised.
With some messy dynamics emerging in his once tight-knit group of friends, and his email correspondence with Blue growing more flirtatious every day, Simon's junior year has suddenly gotten all kinds of complicated. Now, change-averse Simon has to find a way to step out of his comfort zone before he's pushed out—without alienating his friends, compromising himself, or fumbling a shot at happiness with the most confusing, adorable guy he's never met.
This book made me so freaking happy. Like, I can't even put into words how disgustingly ecstatic I am. I saw this book reviewed on
Erika's blog
and she loved it so I wanted to give it a go. And wow. Thank you so much Erika for reviewing this book and showing me how amazing it is. I immediately gave it to my friend to read because I had to show the world how great this book was. And now I have to tell all of you how awesome it is!
It tells the story of Simon. He's a 16 year old gay student who writes emails to someone named Blue. Neither know who they are in real life, yet Simon finds himself able to talk to Blue about important parts of his life he can't even tell his family or friends. However, when a classmate of Simon's finds his email, he blackmails Simon into getting him closer to Simon's friend or Simon's secret will be revealed to the entire school. And it's not just Simon who could be exposed, but Blue too.
I don't read many books with male protagonists, but I'm so glad I did with Simon. I absolutely adored him as a character. He was funny and still totally serious as he tried to figure out what to do. And he was irresistibly cute. His infatuation with Blue was so adorable and had me squealing at all hours of the night. But besides that, he was an amazing friend too. He had a lot of friends in this book, and I don't think he realised how lucky he was to have such great friends who would stand by him no matter what. I don't think he realised what a great family life he had, either. They were so supportive of him, spent time together playing stupid games and would just crack jokes at each other. There was no doubt that any sudden outbursts of sexuality would ever affect how the Spier family felt about each other.
There were many modern references thrown into this book, from Harry Potter, to Tumblr, to Queen and Michael Jackson. I loved recognising the different references thrown in and felt it made the book a lot more relatable.
Simon and Blue's relationship was amazing. We could see their emails every second chapter and I honestly couldn't get enough. They'd both try and drop clues as to who the other person was, and seeing Simon try (and fail) to guess who Blue was had me racking my brains as well! And you still wouldn't know until Blue decided to reveal himself. And when he did, my God, I think I just about spontaneously combusted. It couldn't have been more perfect.
This book covers many important issues regarding sexuality, coming out, as well as bullying in school. These are all serious themes, some even quite controversial, but the author did an amazing job at not sounding preachy to the reader. It just sounded like a teenager wondering to the world why the hell there's a "default" race, sex or way of life. It also covers people's reactions to coming out, which I believe was handled excellently as well. I'm sure anyone would fear their friends or family not accepting them for who they are if they come out, or worse, treating them differently. We get some great examples of this when Simon reveals to his friends that he's gay, and how they all have diverse reactions to it.
This book gave me a smile on my face from beginning to end. But it also had me crying my eyes out and getting completely irrationally angry as well. I think I had to scream into my pillow at one point.
It's definitely become one of my top favourite contemporary reads of 2015. I urge everyone to read it if they see it at a library or book shop, because it's well worth the read. Thanks again Erika for introducing me to this book!