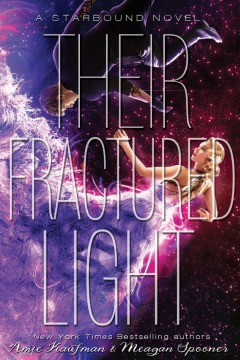 Book
: Their Fractured Light, Amie Kaufman & Meghan Spooner
Publisher
: Disney Hyperion
Release Date
: December 1st, 2015
A year ago, Flynn Cormac and Jubilee Chase made the now infamous Avon Broadcast, calling on the galaxy to witness for their planet, and protect them from destruction. Some say Flynn's a madman, others whisper about conspiracies. Nobody knows the truth. A year before that, Tarver Merendsen and Lilac LaRoux were rescued from a terrible shipwreck—now, they live a public life in front of the cameras, and a secret life away from the world's gaze.
Now, in the center of the universe on the planet of Corinth, all four are about to collide with two new players, who will bring the fight against LaRoux Industries to a head. Gideon Marchant is an eighteen-year-old computer hacker—a whiz kid and an urban warrior. He'll climb, abseil and worm his way past the best security measures to pull off onsite hacks that others don't dare touch.
Sofia Quinn has a killer smile, and by the time you're done noticing it, she's got you offering up your wallet, your car, and anything else she desires. She holds LaRoux Industries responsible for the mysterious death of her father and is out for revenge at any cost.
When a LaRoux Industries security breach interrupts Gideon and Sofia's separate attempts to infiltrate their headquarters, they're forced to work together to escape. Each of them has their own reason for wanting to take down LaRoux Industries, and neither trusts the other. But working together might be the best chance they have to expose the secrets LRI is so desperate to hide.
I've quite enjoyed this trilogy – it delivers the perfect mix of dystopia, sci-fi, action and romance. After all the turmoil the characters have gone through in the first two books, all we want is their happy ever after in this thrilling conclusion to the series.
While this book started out strongly, it lost me somewhere around the middle. It wasn't that this book was bad (it wasn't at all),
I just wasn't as interested as I was in the previous two books.
Let's start at the beginning. Our characters in this book are Sofia and Gideon. Sofia is on the run ever since the death of her father and she's become an expert at reading people and knows exactly what to say to make things go her way. We met her briefly in the second book when Flynn sought refuge with her. Gideon is an expert hacker; put him in front of a computer and there's nothing he can't do. He's still reeling from his brother's death and feels his ghost with him wherever he goes. He was also mentioned in the second book.
In this book, Sofia and Gideon meet by chance and realise they have the same goal – defeat LaRoux Industries once and for all, so they decide to team up and use their individual skills to get close to the enemy. As they spend more time together, they find themselves attracted to the other. However, as they've both been on the run and constantly used aliases and lies so as not to be discovered, both characters have to learn to be more trusting and real with the other.
I remember being super excited to read this from Sofia's POV as I really enjoyed her in This Shattered World, but she quickly became quite repetitive with her trust issues. It wasn't that I didn't like her, but I just liked Lilac and Lee more.
I did like Gideon, the fact that he was a programmer was really interesting and I just found him to be a great character.
We meet up with the main characters from the previous books about halfway through – Lilac and Tarver and Flynn and Lee. It was great seeing them again, especially Lilac and Tarver as those two have a special place in my heart. While it seemed a little TOO coincidental that all six knew each other in some way, I also don't always believe in coincidences and believe that fate had a little hand in helping these six get together. Its better they have a history than six strangers being forced to work together – that's even less believable!
The ending had quite a few twists and turns I wasn't expecting with a lot of action scenes thrown in too. I found the "whispers" to be remarkable and would love to read more about them. All in all, this series is… for lack of a better word, enjoyable. These Broken Stars will still be my favourite of the series, but I can't deny that this series is still good to read with a wonderfully developed world. If I'm completely honest, I probably won't look back and remember these characters, or want to re-read this series any time soon. But if you've read the first two books, or is into sci-fi, dystopian, futuristic-y worlds, then give it a shot.