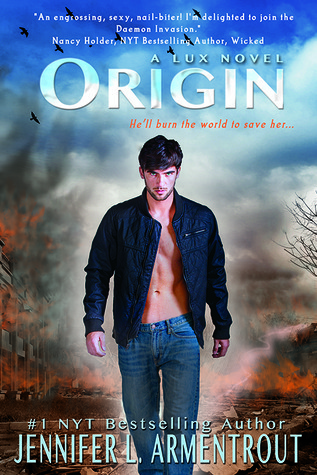 Book
: Origin, Jennifer L. Armentrout
Publisher
: Entangled Publishing
Release Date
: August 7th, 2013
Daemon will do anything to get Katy back.

After the successful but disastrous raid on Mount Weather, he's facing the impossible. Katy is gone. Taken. Everything becomes about finding her. Taking out anyone who stands in his way? Done. Burning down the whole world to save her? Gladly. Exposing his alien race to the world? With pleasure.

All Katy can do is survive.

Surrounded by enemies, the only way she can come out of this is to adapt. After all, there are sides of Daedalus that don't seem entirely crazy, but the group's goals are frightening and the truths they speak even more disturbing. Who are the real bad guys? Daedalus? Mankind? Or the Luxen?

Together, they can face anything.

But the most dangerous foe has been there all along, and when the truths are exposed and the lies come crumbling down, which side will Daemon and Katy be standing on?

And will they even be together?
This book is so good it's bad. It's bad in the un-put-down-able, stay up until 2 am to finish, ignore homework kind of way. My mantra throughout the entire book was "Just one more chapter." And now there isn't "one more chapter" because it's finished.
Because now I'm stuck in reality, which has homework and chores and routine bedtimes and (worst of all) there's no hot aliens that act like douches but are secretly extremely sweet and romantic.
It's actually scary how many times this book made me squeal like a fangirl into my pillow. I lost count after twenty. I mean, I've read this series multiple times now and I still get emotional over these characters. It wasn't even for the big things, (which I won't mention because of spoilers) but all the small, intimate moments between the two of them. They were just so effing cute! I can't get over it. I just think about the jerky way Daemon behaved toward Kat in Obsidian (even though I knew they'd end up together eventually) and can't believe they've gone from that to this. I would never want to break them up, but I'm so jealous of Kat. Daemon is just so amazingly perfect, and I'm just completely in love with him. (Loving sigh)
I was so glad that this book and the sequel are dual POV between Daemon and Katy. Being inside Daemon's head is amazing. He shows us just how much his Kitten means to him and what he'll do to get her back. He's just as snarky and overconfident as he is in Katy's POV. It's also nice to see what Katy is like through someone else's eyes (even if that person is biased).
"There's only one thing I want."
"And that is?"
"I want to see Kat."
Nancy's smile didn't fade. "And what are you willing to do to accomplish that?"
"Anything," I said without hesitation, and I meant it. "I will do anything, but I want to see Kat first and I want to see her now."
There was also a new character introduced called Archer who I knew straight away was going to be a good guy. I could just tell; I'm that awesome.
This book was so action-packed from the very beginning. Even when there weren't action scenes, there were still incredibly cute moments between Daemon and Katy which stuck with me even after I finished reading a chapter.
There were two major surprises: Katy and Daemon do something that got me crazy for Daemon all over again, and Dawson and Beth are in a really risky situation.
Gah, there's just so much I could say about this book! It's making me itchy to read Opposition (again), just for the feels.