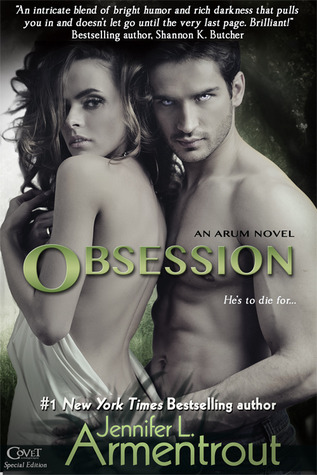 Book
: Obsession, Jennifer L. Armentrout
Publisher
: Entangled Publishing
Release Date
: May 31st, 2013
This is a stand alone novel that is an adult spin-off of the Lux Series You do not need to read a Lux book to read Obsession and vice versa.

He's arrogant, domineering, and... To. Die. For.

Hunter is a ruthless killer. And the Department of Defense has him firmly in their grasp, which usually doesn't chafe too badly because he gets to kill bad guys. Most of the time he enjoys his job. That is, until he's saddled with something he's never had to do before: protect a human from his mortal enemy.

Serena Cross didn't believe her best friend when she claimed to have seen the son of a powerful senator turn into something... unnatural. Who would? But then she witnesses her friend's murder at the hands of what can only be an alien, thrusting her into a world that will kill to protect their secret.

Hunter stirs Serena's temper and her lust despite their differences. Soon he's doing the unthinkable—breaking the rules he's lived by, going against the government to keep Serena safe. But are the aliens and the government the biggest threats to Serena's life… or is it Hunter?
Obsession is a standalone novel based on the Lux universe but from an Arum's point of view. You don't have to read the Lux novels to read this book, however I would highly recommend it.
In the Lux novels, we meet a heroine who befriends the Luxen – aliens from another universe who reside here on Earth. Their biggest enemy is the Arum, aliens from a rival planet to the Luxen. In that series, the Arum are the bad guys as we're given a Luxen as the hot male lead (Daemon!!). In this book, it's the opposite. The male characters are older (heroine being 23 while in the Lux novels she's only 17), and, probably the most obvious, the male lead is an Arum.
After reading both novels, I do have to side with Daemon, the Luxen, in the battle of who's the hotter male lead (sorry Hunter). It's not that I didn't find Hunter attractive. He was a total badass, harsh, cocky, aggressive, and could be a total asshole. Serena (the heroine) mentioned multiple times how much she wanted to hit him with something.
"I now knew that the male species were asses no matter what planet they hailed from."
These are all VERY good traits to have in a romance novel. But I think after being with Daemon for five novels, it's hard to let that love just die. Hunter was still an AMAZING male lead, and is definitely the most badass character JLA has ever written. I'm just team Daemon in this case.
This book is epic. You can't expect anything less from JLA, especially when it comes to doing what she does best: write about juicy alien hotness in all its glory.
Serena Cross's entire life is flipped upside down and trampled on when she witnesses her best friend's murder. And when the Luxen discover that Serena witnessed the murder, they do the only thing they think they can: kill her too.
In swoops Hunter, the Arum assigned by the government to protect Serena. Hunter is attached to the DOD like a dog to a leash, and babysitting some lowly human is the last thing he wants to do.
But as the two spend more time together, they cannot deny the attraction to each other despite being different species. Suddenly Serena's in for the ride of her life when she starts to uncover government conspiracies and try and avenge her friend's death, Hunter right by her side.
Hunter
: Somehow, in the relatively short time I'd known Serena, she had wiggled her way into my cold body. She was my light, my warmth, and I wasn't ready to let her go.
Serena
:
Us. Such a small and simple word, but it was probably the most powerful thing right now. "Us" meant we were in this together, whatever the future may hold.
Funny, sexy, delicious, and filled with heart-stopping action scenes, this book will leave you breathless and to anyone who's read the Lux series, will give you a new light to how you view each alien species.