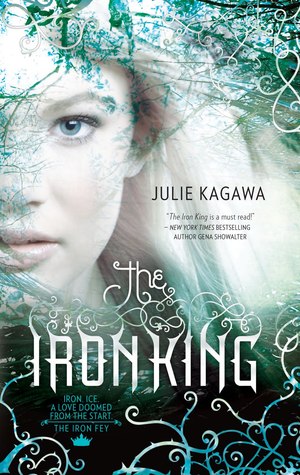 Book
: The Iron King, Julie Kagawa
Publisher
: Harlequin Teen
Release Date
: February 1st, 2010
Meghan Chase has a secret destiny; one she could never have imagined.
Something has always felt slightly off in Meghan's life, ever since her father disappeared before her eyes when she was six. She has never quite fit in at school or at home.
When a dark stranger begins watching her from afar, and her prankster best friend becomes strangely protective of her, Meghan senses that everything she's known is about to change.
But she could never have guessed the truth - that she is the daughter of a mythical faery king and is a pawn in a deadly war. Now Meghan will learn just how far she'll go to save someone she cares about, to stop a mysterious evil, no faery creature dare face; and to find love with a young prince who might rather see her dead than let her touch his icy heart.
I've heard such amazing things from this series; bloggers I visit frequently rave about these books and these characters so much. And now that the last book has recently been released, I decided that it was time I finally got in on this fandom.
Meghan Chase thinks her life – and herself – is completely ordinary and normal. She spends her days at school, hanging out with her friend Robbie, listening to her iPod, and complaining that she can't drive yet. Yet Meghan discovers on her sixteenth birthday that her life is anything but normal – she's part of the faery world, in a way that she never would've guessed. When her little brother is kidnapped by a member of the faery court, Meghan has to leave her ordinary life behind and venture into the Nevernever, where the Fae and other fantasy creatures dwell, as well as the secrets to Meghan's past. Here she befriends strange and wonderful characters, and find love in the most unlikely of places.
But as Meghan spends longer and longer in the Fae world, she discovers just how important she is in the ongoing war between the two courts and realises that her life, as well as her brother's, could be in jeopardy.
The only other Fae book I'd read was A Court of Thorn and Roses by Sarah J Maas, so I honestly wasn't sure how Kagawa was going to handle this book. However, Julie Kagawa is a wonderful author, and l loved her Blood of Eden series, and the great reviews I'd read made me excited to finally start this series.
And I really enjoyed it! The world Kagawa creates is something magical, and there's a great cast of mythical creatures in the Fae World that I loved reading about. I actually preferred these Fae characters to our main character, to be quite honest. Oberon, Puck, Ash, Grimalkin, just to name a few, was so engaging and interesting.
Sadly, Meghan wasn't that great of a heroine. She starts off complaining about how bad her life is and how she can't afford nice things, and then when she arrives in the Nevernever, she becomes a damsel in distress. She thinks about what she SHOULD do instead of actually doing it. Towards the end she seemed surer of herself and her place in both worlds, but I hope she grows a lot more in the second book.
I did enjoy her romance with Ash; they never stopped giving me the feels. Ash is so cold-hearted and tough, but you can tell his guard is done around Meghan and he feels confused over his feelings over this strange half-human girl.
Julie Kagawa has created a wonderful new world in this book and I can't wait to read more about it.
P.S HAPPY NEW YEAR FRIENDS! :)