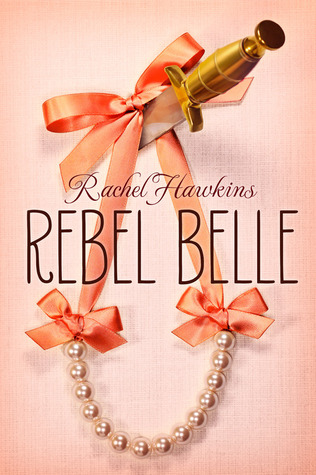 Book
: Rebel Belle, Rachel Hawkins
Publisher
: Putnam Juvenile
Release Date
: April 8th, 2014
Harper Price, peerless Southern belle, was born ready for a Homecoming tiara. But after a strange run-in at the dance imbues her with incredible abilities, Harper's destiny takes a turn for the seriously weird. She becomes a Paladin, one of an ancient line of guardians with agility, super strength and lethal fighting instincts.
Just when life can't get any more disastrously crazy, Harper finds out who she's charged to protect: David Stark, school reporter, subject of a mysterious prophecy and possibly Harper's least favorite person. But things get complicated when Harper starts falling for him—and discovers that David's own fate could very well be to destroy Earth.
With snappy banter, cotillion dresses, non-stop action and a touch of magic, this new young adult series from bestseller Rachel Hawkins is going to make y'all beg for more.
Sometimes you just need to read a book that has you smiling constantly, laughing quite often and gives you a warm and comforting feeling deep inside, right at the place you didn't realise needed to be comforted by. Rebel Belle is just that book.
It tells the story of Harper Jane Price, who, at first glance, seems like your typical popular girl. She's Homecoming Queen, Head Cheerleader, SGA President, with many more extracurricular activities at her belt. She's a very proper southern belle who says "eff" instead of the actual word. I thought she was going to be your stereotypical "mean girl" because of all these traits. But I was, to my delight, completely wrong about her character! Yes she is all those things I just mentioned, but she's also girly, witty, caring, funny… just an all-round great character. She had her high school career all planned out with all those activities as well as a loving boyfriend at her side. However, everything changes when she encounters the death of the janitor who, before dying, passes on his gift of super-strength and turns her into a Paladin.
Suddenly Harper's high school plans are thrown out the window as she discovers that her new-found powers mean she is tasked to protect David Stark, her arch nemesis since childhood. What are the chances, right?
What I loved about this book was how independent the author made Harper. Instead of waiting for her "Professor X" character to find her and explain what's happened to her, she finds out most of it by herself. By the time she finds her "Professor X", they only have to give specifics and more detail to what Harper has already discovered by herself.
Even though Harper wants to take her new role seriously, she can't help wanting to have her life remain exactly the same even though she knows deep inside that that can't happen. When she starts spending more time with David and less with her boyfriend, Ryan, as well as lying to her friends as to where she's going, it becomes clear the life Harper once envisioned is at an end.
The romance is adorable and perfect. It's so gradual and realistic. David and Harper are extremely passionate – they were full of snarky comebacks and dirty looks. Yet those snarky comments soon become very joking and not as serious as they used to be. There's no insta-love, but it's not dragged out either. It's perfect.
This is a super adorable contemporary read with a dash of supernatural to it; it's perfect for those looking for a light read that'll make them smile constantly.