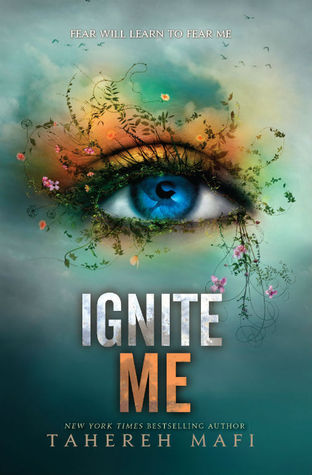 Book
: Ignite Me, Tahereh Mafi
Publisher
: Harper Collins
Release Date
: February 4th, 2014
The heart-stopping conclusion to the New York Times bestselling Shatter Me series, which Ransom Riggs, bestselling author of Miss Peregrine's Home for Peculiar Children, called "a thrilling, high-stakes saga of self-discovery and forbidden love."

With Omega Point destroyed, Juliette doesn't know if the rebels, her friends, or even Adam are alive. But that won't keep her from trying to take down The Reestablishment once and for all. Now she must rely on Warner, the handsome commander of Sector 45. The one person she never thought she could trust. The same person who saved her life. He promises to help Juliette master her powers and save their dying world . . . but that's not all he wants with her.
Ignite Me was the finale worth waiting for. I'd been told that it was the best out of the three books, and every review I'd read stated how amazing and un-put-down-able it was. I have to say I completely agree. The story flowed so awesomely, there was never a dull moment or unnecessary dialogue or chapters. The character development just rattled the stars. Juliette, our main character, started off so meek and docile when we first meet her; so afraid of her abilities that she never attempted to escape the asylum she was put in. Even in Unravel Me, she had such low self-esteem that she was willing to let someone else lead the resistance against The Re-Establishment as she didn't think she was important enough to lead an army. Well that girl is gone now! She has accepted her powers as a part of herself, and has a vision for the future she knows only she can create, and is no longer afraid of taking charge. In short, she's become a total badass and someone to cheer for.
"I'm going to be alive in ten years, and I'm going to be happy. I'm going to be strong. And I don't need anyone to tell me that anymore. I am enough, and I always will be."
Adam has realised that the girl he fell for no longer exists, and he has to come to terms with this fact; as well as the fact that everything around him is changing. While I didn't like the way he acted in some parts of this book, I think by the end he learned to accept that while change is scary, it's also necessary to see a better world.
And Warner. Oh, my poor, sweet, misunderstood baby. He was the villain in the first book but he changes so much in this book. While it was never a secret that he loved Juliette, he has to learn to accept other people in his life when he was always had a tough time trusting people. His and Juliette's scenes were by far my favourite and you couldn't help fanning yourself when reading them. Juliette is so confused over her feelings for Warner because he's done some terrible things, yet he's the only one who truly understands her and treats her like his equal; as someone worth leading and fighting alongside. He wants to protect her yet he'll also let her protect herself as he knows she's well able to.
"Ignite, my love. Ignite."
"You deserve so much more than charity," he says, his chest heaving. "You deserve to live. You deserve to be alive." He's staring at me, unblinking. "Come back to life, love. I'll be here when you wake up."
All our other favourite characters return too, such as Kenji, James and Castle. James' lovable innocence and relentless questions and Kenji's banter always put a smile on my face. I adore that Kenji's and Juliette's relationship is completely platonic. I love boy-girl friendships that have no romantic intentions at all; you get so little of them in YA books lately. They nearly always result in romance by the book's end. But with Kenji and Juliette they only see each as friends, and I loved it.
In short, this was a great finale. Mafi's unique style of writing was still as refreshing as ever, and I'll miss how distinctive it was. If I had any nit-picks, it was that the ending was a bit abrupt. I would've loved to see an epilogue or a "one year later" type of thing as I wanted to see what happened after the big finale. If there is a bonus scene somewhere, someone tell me!
This was by far my favourite of the trilogy and I'm so glad I finally got to read this series. I encourage all of you to add this series to your TBR list if you love romance, kickass characters, dystopia, sci-fi and magical powers. It's absolutely amazing.
"I take a deep breath. Try and count the stars."