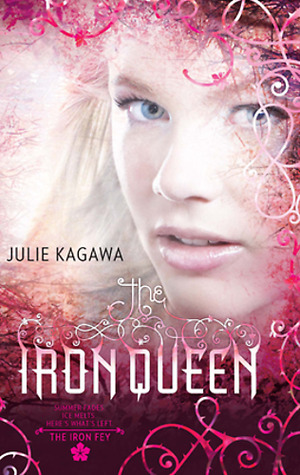 Book
: The Iron Queen, Julie Kagawa
Publisher
: Harlequin Teen
Release Date
: January 25th, 2011
My name is Meghan Chase.
I thought it was over. That my time with the fey, the impossible choices I had to make, the sacrifices of those I loved, was behind me. But a storm is approaching, an army of Iron fey that will drag me back, kicking and screaming. Drag me away from the banished prince who's sworn to stand by my side. Drag me into the core of conflict so powerful, I'm not sure anyone can survive it.
This time, there will be no turning back.
The Iron Queen is definitely my favourite of the Iron Fey series.
This book kept me on the edge of my seat for the entire book. We'd left The Iron Daughter with Ash and Meghan exiled from the Faery world, assuming they would have an ordinarily human life in the real world. But of course, these two couldn't stay out of the NeverNever for long and they're soon sent right back into the middle of the war between the Summer and Winter Courts and the Iron Fey. Due to Meghan's half-human heritage, she's the only one who can enter the Iron Realm without getting hurt and so is sent by King Oberon and Queen Mab to kill the false Iron King once and for all, with her two loyal bodyguards' right by her side. And there was so much action and character development and great moments throughout the book, I truly enjoyed myself.
Meghan has completely transformed herself into a strong and brave Leader whom others will very happily and loyally follow. While I disliked her in the previous two books, I just had to cheer her on in this book, she was so awesome! She had so many doubts about herself and her abilities; about who she was meant to be. Was she a human living in the fey world? Or was she where she truly belonged? Well, these all disappear in this book, and she truly comes into her own here.
Now that Ash and Meghan became an official couple, the romance was simply… well, gushy. The loyalty between those two is something to be admired, and Kagawa wrote it beautifully. I honestly can't decide if I'm a Puck or Ash girl as both boys love Meghan differently but just as fiercely, but I still can't deny that Meghan and Ash were on fire. Puck will always be in love with Meghan and stick tight to his princess for as long as he can, but Ash and Meghan's chemistry made me fan myself in some places. I can't help but love Puck's loyalty, though.
The title of the book makes it a little obvious as to what Meghan's true role is in the Faerie world. She's not just Oberon's daughter and a Summer Princess; she's an Iron Queen too.
She has to prove herself and her powers on more than one occasion in this book but comes out on top every time. Kagawa has once again inspired a wonderful and creative world, mixing faery tales with fantasy, action and love. Her writing style is wonderful and I would definitely recommend this series to anyone who loves those elements in books.