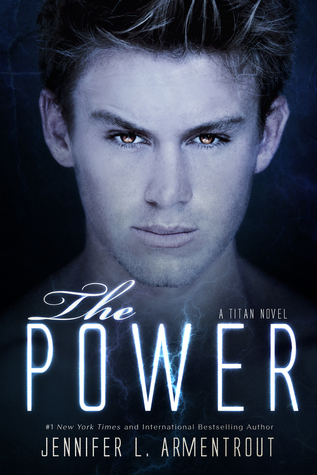 Book:
The Power, Jennifer L. Armentrout
Publisher
: Spencer Hill Press
Release Date
: February 23rd, 2016
With any great change, there is always strife, and the Covenant University has become the frontline between pure-bloods who want the Breed Order reinstated and the half-bloods who want the right to control their own destinies.
The violence is escalating and war between the races seems inevitable, and it couldn't come at a worse time. Hyperion may be out of commission, but Josie and Seth know they have only earned a reprieve. Seth must get Josie fully prepared, which means controlling her newfound abilities, and they need to find the other demigods before the Titans do.
But the gods are sensing a greater threat.
Only one thing is more dangerous than a bunch of starved Titans, and that's an out-of-control Apollyon. The aether in Josie is drawing Seth in deeper, and when lust mixes with love and gives way to power, he knows being close to her is not only dangerous to her, but to everyone around them, but letting her go requires a level of selflessness that just isn't Seth's style.
The paths taken in the past are becoming the roads of the future.
Just as chaos breaks out, familiar faces from the past return, complicating the already strained bond between Josie and Seth, and when the danger from the Titans erupts with devastating consequences, the dark allure of power calls to Seth again, but this time Josie might not be able to pull him back.
And when the struggle between power and love becomes the deadliest battleground, there may be no salvation.
*This ARC was given to me in exchange for an honest review*
Okay, first off, I have to thank Jennifer L Armentrout and her publishers from the bottom of my fangirl heart and express my deepest gratitude for being given a copy of this book early. It made my day to see it arrive in my Kindle, and I couldn't get enough of my favourite Apollyon.
I couldn't wait to get back into the world of pures, halfs, demigods and all that godly good stuff. This book takes off directly after the events of The Return, with Josie, our mortal-turned-demigod still learning more about her new powers and coming to terms with who and what she is.
Seth is still the Seth we all love, and still racked with guilt over his part in what happened at the end of the Covenant series. He doesn't believe he's worthy of Josie's love, or anything good in general. He's never been loved, and doesn't believe he should be loved. Because of this, he starts doing silly things like speaking without thinking, or pushing Josie away. It was so sad to read because we all love Seth, and know that the guilt he's feeling means HE IS WORTHY OF LOVE. He just doesn't see it.
"Him pushing me away had nothing to do with Alex or with me. It was because of him, because of how he believed he deserved nothing more than punishment."
Plot wise, there isn't a lot. This book focuses mainly on Josie and Seth's relationship together as well as their character development. Old faces return (guess who??) and our usual favourites appear, such as Deacon, Luke, Solos, and Apollo with his epically bad timing. Deacon and Luke are still wonderfully funny and great friends, and I loved how much they loved Supernatural.
"'You don't apologise,' (Deacon) said, pressing a kiss to my gross, greasy head, instantly unlocking best friend status."
Josie has to prove herself a lot, that she's not something to hide away and protect; that she's worthy of fighting beside everyone when she has to. And I loved her just as much as I did in The Return. I loved how much she cared for everyone; how she was willing to give everyone a chance, even when others didn't think it was deserved.
"I was not a weakness that needed to be hidden away. I was a mother-freaking demigod."
Everyone has to start looking for the other demigods to help fight against the Titans, and Apollo helps by bringing in one nobody expects, but was freaking perfect.
This book was the sequel worth waiting for and fans of the first book and the Covenant series are going to love it. You don't want to miss it; it has everything you want and more. Can I have the next book now please?