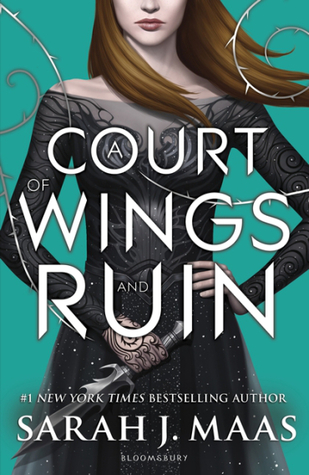 Book
: A Court of
Wings
and
Ruin
, Sarah J. Ma
a
s
Series
: A Court of Thorn
s
and Roses #
3
Publisher
: Bloomsbury Children's
Release Date
: May
2nd,
201
7
A nightmare, I'd told Tamlin. I was the nightmare.

Feyre has returned to the Spring Court, determined to gather information on Tamlin's maneuverings and the invading king threatening to bring Prythian to its knees. But to do so she must play a deadly game of deceit—and one slip may spell doom not only for Feyre, but for her world as well. As war bears down upon them all, Feyre must decide who to trust amongst the dazzling and lethal High Lords—and hunt for allies in unexpected places.
Does anybody remember when this series was simply a fairy-tale retelling? Yeah, me neither. Those were simpler times.
Sarah J Maas continues to show her fans why she's become a queen of high fantasy because of this book. I am wrecked after this book, totally wrecked. How am I supposed to read anything else after this?
I love how Maas has written characters that are so imperfectly perfect. They've all gone through so much hurt and pain, they've been broken and are trying to put themselves back together. And while they're still not completely healed, they still choose to believe in love, and hope, and fighting until the very end to save their loved ones.
Can we say this is the same Feyre we met in ACOTAR? I've read reviews where people have said that that book was their least favourite in the trilogy, which I get. It has her in love with Tamlin! But I went into that book without realising how I was going to come out so irrevocably changed. So for me, for that reason alone, I will love that book just as much as the rest of them in this series.
Feyre is not that huntress we met who killed a wolf and changed her entire life. She's still healing, she still makes some sketchy decisions (especially in the first part of this book), but her self-worth has soared and she taken the role of High Lady like a duck to water. She has found her people, she's learned to love herself and learn that everything she has gone through - both good and bad - has led to the life she has and the person she's become. I also adore how close she became with her sisters – as a sister myself, it put this huge smile on my face and made me want to hug my own sister and be utterly grateful for our unbreakable bond.
"I didn't know how long my sisters and I lay there together, just like we had once shared that carved bed in that dilapidated cottage. Then—back then, we had kicked and twisted and fought for any bit of space, any breathing room. But that morning, as the sun rose over the world, we held tight. And did not let go."
Every character in this is still broken and healing in different ways - everyone in the Inner Circle in the Night Court, Nesta and Elain, even Lucien and Tamlin. And Sarah writes about PTSD, surviving trauma & abuse, and rebuilding yourself; in this book and in ACOMAF. It can bring hope to those suffering that you can survive it. Sarah has been able to write such realistic, relatable, and inspirational character arcs and it was just beautiful to read.
Rhysand still feels he has to sacrifice himself for everyone else, and that is not something that is healed easily. But through his mate, and his brothers, his family, he is on the road to recovery. It will be a long and difficult road, but I know that he'll learn to rely on those around him; that he doesn't have to suffer alone anymore.
And so many characters are given so much more light! We learn more about Nesta, Elain, Cassian, Azriel, Mor… we loved them when they were introduced in ACOMAF, but now we understand them. I don't know how big of a role they'll have in the next book, but I don't believe it's the last we see of them. They have so much more depth that Sarah has barely even touched upon.
Also, Tamlin, no matter how much we may hate him, is given such a realistic and believable role in this. He's the bitter ex who has to put up with his ex-girlfriend's new husband, and see her so much happier than she ever was with him, as well as work with them. Does anybody really handle that well? But Maas makes sure that we, as readers, are given closure towards his character so that there are still questions about "what now" regarding his character, but for me personally, I think he's grown a little bit.
Rhys and Feyre continue to shine, and sometimes I still wonder how we ever shipped her and Tamlin together in ACOTAR. Even though there are plenty of hot and steamy scenes, there are also parts where Rhys truly treats Feyre as his equal, not just his wife. He allows her to show her strength to the other High Lords (we meet them all!!!) and most importantly, he always, always, always gave her a choice. And he never stopped her when she wanted to do something dangerous and life threatening. He just asked her to be careful. Their characters grew so much and it was so emotional and great and I just… sigh.
This book is the story of a war. And because of this war, every character finds their strengths – it wasn't always on a battlefield, sometimes it was simply being an inspirational presence that encouraged those to keep fighting. While this story shows how terrible war can be, it never glorifies killing and is still very realistic. Even: "One life may change the world."
This book ended with a lot of questions still left open, especially about some of my ships. Are they happy and together or not? I need to know! I have no idea where the fourth book will lead, but I can't wait to read it.
However, Feyre's story has come to an incredibly satisfying end and I closed this book at two in the morning with a super goofy smile on my face.