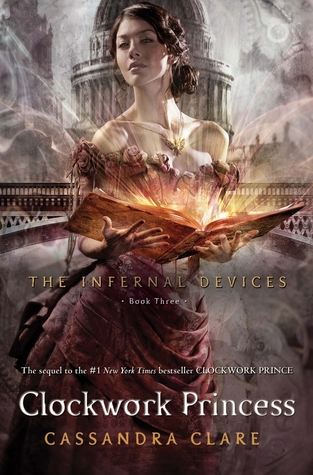 Book
: Clockwork Princess, Cassandra Clare
Series
: The Infernal Devices #3
Publisher
: Simon & Schuster
Release Date
September 5th, 2013
Danger and betrayal, love and loss, secrets and enchantment are woven together in the breathtaking finale to the #1 New York Times bestselling Infernal Devices Trilogy, prequel to the internationally bestselling Mortal Instruments series.

THE INFERNAL DEVICES WILL NEVER STOP COMING

A net of shadows begins to tighten around the Shadowhunters of the London Institute. Mortmain plans to use his Infernal Devices, an army of pitiless automatons, to destroy the Shadowhunters. He needs only one last item to complete his plan: he needs Tessa Gray.

Charlotte Branwell, head of the London Institute, is desperate to find Mortmain before he strikes. But when Mortmain abducts Tessa, the boys who lay equal claim to her heart, Jem and Will, will do anything to save her. For though Tessa and Jem are now engaged, Will is as much in love with her as ever.

As those who love Tessa rally to rescue her from Mortmain's clutches, Tessa realizes that the only person who can save her is herself. But can a single girl, even one who can command the power of angels, face down an entire army?

Danger and betrayal, secrets and enchantment, and the tangled threads of love and loss intertwine as the Shadowhunters are pushed to the very brink of destruction in the breathtaking conclusion to the Infernal Devices trilogy.
Clockwork Princess is the perfect and epically fantastic ending to a trilogy about one unique girl who's trying to find out who she is, and the only person who can tell her is her worst enemy. It had action, love, drama, happiness, despair and the power to crush you emotionally.
Mortmain is continuing his evil plan to create super intelligent, super powerful automatons who will obey his every whim and destroy all Shadowhunters. The only thing he needs is Tessa. It's up to the Shadowhunters to save her and stop Mortmain from destroying their world. Jem and Tessa are engaged even though Jem is slowly dying; Tessa is in complete denial over this, as well as her and Will's broken hearts.
Oh, this book was incredible. I wanted to keep reading it, and at the same time, I never wanted it to end. That's a sign of a well-written book.
I also have to say that the love triangle in this book was extremely well-written. I've never read one where every character is treated with complete love, respect and kindness, as well as one where the fans of each character, whether you were Team Will or Team Jem, was treated with the utmost respect too and are happy with the outcome in the end.
There were so many huge surprises in this book had me screaming into my pillow at night as I had to stop reading when I wanted to read all night, but they were all perfect and even though most of what I'd guessed didn't happen, I didn't care. Clare had all characters do what was right and perfect for the story. I was sure Cecily would fall for Jem, and Tessa would proclaim her love for Will, and the four of them would live happily together. Nope! The only thing I was sure of what happened was that Gideon and Sophie stayed together, because their love was the only uncomplicated one (and theirs still had its share of complications).
I was screaming, crying, laughing, sobbing, moaning and smiling all throughout this book. It had my emotions running on high and writing down theories as to how everyone could get their happy ending without anybody dying or going away. It's so amazing, oh, I just adored it. I want to pick up Clockwork Angel and re-read the whole series again!
*2017 Re-read Realisation:*
I have also discovered just how strong Charlotte Branwell was throughout this whole series, and I really didn't give her enough credit in my original review. She was born into a time when women were the weaker sex, when their emotions meant they couldn't make the same, practical decisions that a man could. Yet, throughout this Charlotte overcomes any and all doubt thrust her way and makes everyone so loyal to her, because she is a true leader. I recently made a post on my blog regarding badass characters, and right now, I'm so tempted to add Charlotte onto that list! She's just amazing.