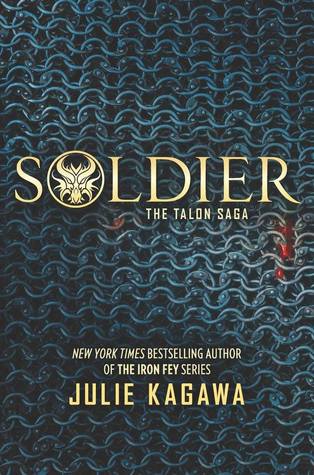 Book
: Soldier, Julie Kagawa
Publisher
: Harlequin Teen
Release Date
: April 26th, 2016
The price of freedom is everything.

When forced to choose between safety with the dragon organization Talon and being hunted forever as an outcast, Ember Hill chose to stand with Riley and his band of rogue dragons rather than become an assassin for Talon. She's lost any contact with her twin brother, Dante, a Talon devotee, as well as Garret, the former-enemy soldier who challenged her beliefs about her human side.

As Ember and Riley hide and regroup to fight another day, Garret journeys alone to the United Kingdom, birthplace of the ancient and secret Order of St. George, to spy on his former brothers and uncover deadly and shocking secrets that will shake the foundations of dragons and dragonslayers alike and place them all in imminent danger as Talon's new order rises.
Oh God, that ending. I'm still not over it. Some friends had warned me that the ending to this book would break me emotionally, but wow. Just, no. My heart hurts. It's going to be hard to recover from this emotional rollercoaster, let me tell you. How am I supposed to wait a year to find out what happens??
This is definitely my favourite out of this series so far. It picks up a small while after the ending of Rogue, where Riley and Ember are moving as fast as they can to save Riley's network of hatchlings, with Garret off to London to find out answers about St George and learn more about the organisation that was his entire life.
We learn so much about Talon and St George in this book, secrets that they're keeping that they don't want anybody to uncover. And, as you may have guessed by the title of this book, we delve in the background of Garret, and how he became the Perfect Soldier we met in Talon. And I loved it! He's already my favourite character, but learning more about his upbringing and what eventually led to becoming a "dragon lover" was great to read, and I feel so much closer to his character now.
He and Ember have parted ways, as Ember is feeling incredibly conflicted about her feelings toward both the boys in her life. Her dragon is attracted to Riley, but the human in her is drawn to Garret. We see both of them struggle with the separation – Garret is still in love with her and is not ashamed to admit it, but he thinks that he doesn't have any chance with the dragon girl of his dreams. But that doesn't mean he won't stop attempting to help her in whatever way he can, and try and create a future that will be safe for her so she can eventually stop fighting and have a life. It's impossible not to love him.
And Ember has changed since we met her in Talon. Yes, she's still that fire-headed, stubborn and defiant dragon you can't help but cheer for, but she's lost that innocence and love for life she had in the first book. She's seen death, and caused death, and that creates a haunted look in your eyes that never truly goes away. While she's accepted this part of her life, that doesn't mean she has to like it, and she's still traumatised because of it. She's also feeling incredibly conflicted over her dragon and human sides, what her heart is trying to tell her vs what her dragon is telling her. Which side is more important?
And finally we have Riley, aka Cobalt, our rogue, sarcastic, defiant leader. I have such conflicting feelings toward him. I think he's a fantastic leader and I love how determined he is to save all the hatchlings and will go to extreme lengths to defeat the evil in Talon so that all dragons can be safe and free. But I hated how controlling he was toward Ember. He viewed her in a very animalistic way – she was his, and no one else could have her. The dragon in him wanted to fight anyone who would attempt to take Ember from him – despite never actually declaring them a couple. I felt like he never gave her a choice in the matter; she was his whether she liked it or not, which I hated.
We learn a lot more about both Talon and St George in this book, secrets that are completely shocking to both me and the characters. We meet more dragons that are from the Middle East that don't want anything to do with Talon, whom I loved. I can't wait to see more of them and learn more about their culture and how they differ from Western dragons.
And again, we have that DEVASTATING ENDING. Shocks were thrown in, you cry out in shock horror, you crawl under the bed covers in an attempt to escape the pain this book caused your heart… It's a ride, I'll tell you that much. But it's been my favourite ride in this series so far. I don't know how I'll survive the year wait, but I know it will be worth it.