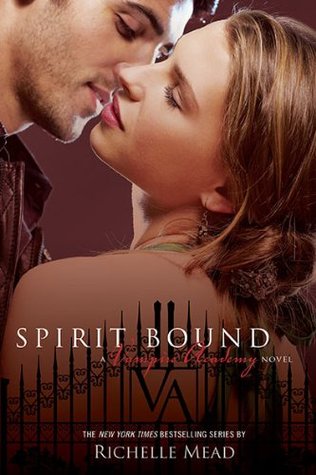 Book
: Spirit Bound, Richelle Mead
Series: Vampire Academy #5
Release Date
: May 18th, 2010
Dimitri gave Rose the ultimate choice. But she chose wrong...

After a long and heartbreaking journey to Dimitri's birthplace in Siberia, Rose Hathaway has finally returned to St. Vladimir's-and to her best friend, Lissa. It is nearly graduation, and the girls can't wait for their real lives beyond the Academy's iron gates to begin. But Rose's heart still aches for Dimitri, and she knows he's out there, somewhere.

She failed to kill him when she had the chance. And now her worst fears are about to come true. Dimitri has tasted her blood, and now he is hunting her. And this time he won't rest until Rose joins him... forever.
Rose will always be one of my favourite heroines, alongside Katy Swartz (Lux series), Tessa Gray (Infernal Devices) and Sydney Sage (Bloodlines). As a character, she is independent, funny, kind, caring, and not afraid to voice her opinion on what she feels is right. What's not to love about her?
That being said, I did not enjoy her in this book. She still had a lot of her usual admirable traits, but they were all laced with something not-so-admirable – selfishness. While I will allow Rose to be sad for having lost Dimitri, I think she was too selfish in this book. I understood her actions in Blood Promise, and did cheer along with her toward the end. The only problem with her obsession with Dimitri this time is because she had already decided to give Adrian a chance. (FYI, I will always be Team Adrian). While she carried Adrian around and told him she cared for him, she was secretly planning on how to be with Dimitri again.
Yes yes, I know everything works out sort-of okay in the end. I still think Rose was really selfish in this book, from:
SPOILER:

putting her friends in mortal danger, releasing a former prisoner and stringing Adrian along the way like he meant nothing.

END SPOILER
Anyway. I won't focus on her selfishness completely in this review. The book was still really good. There was plenty of action, jaw-dropping moments and being forced to stay up until half three to finish reading.
Lissa is finally beginning to evolve from that fragile, scared princess we met in the first book and is not afraid to stand up for what she believes in a very regal way that are making people listen.
Adrian, as usual, is awesome. His one-liners and the way he shocks his mother never fail to amuse me. However you can see how being Rose's boyfriend is taking its toll on him and I think he knows Rose never got over Dimitri and could never 100% commit to their relationship, which I hated. He deserves so much more. Come visit MY dreams, Adrian!
This book, while not perfect, is still a great addition to this series. I'm sad there's only one book left.