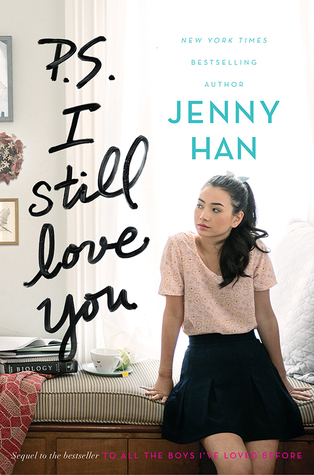 Book
: P.S, I Still Love You, Jenny Han
Series
: To All the Boys I've Loved Before #2
Publisher
: Simon & Shuster Books
Release Date
: May 26th, 2015
Lara Jean didn't expect to
really
fall for Peter.
She and Peter were just pretending. Except suddenly they weren't. Now Lara Jean is more confused than ever.
When another boy from her past returns to her life, Lara Jean's feelings for him return too. Can a girl be in love with two boys at once?
In this charming and heartfelt sequel to the
New York Times
bestseller
To All the Boys I've Loved Before
, we see first love through the eyes of the unforgettable Lara Jean. Love is never easy, but maybe that's part of what makes it so amazing.
You know when you've just read a very heavy book; something that drained you emotionally or had your heart pumping a mile a minute? And you know that the next book you read needs to be something very light and fluffy that will calm your heart and your feels, but still be something very enjoyable and cute? This is that book series.
The story is very simple, but so much fun to read. The characters are very American and their problems are very first-world and teenager-y, but still entertaining.
After the cliff-hanger of To All The Boys I Loved Before, I couldn't wait to get back into the story of Lara Jean and her family, and the love she has for two boys in her life. She and Peter finally become a real couple in this book, not the fake one that was in To All The Boys I Loved Before. She's in the throes of a first relationship and everything that comes with it – insecurities, questions, and new discoveries. It was so refreshing to read.
While Lara Jean is coming to terms with being in a relationship and everything it means, we also have a new boy thrown into the mix. John Ambrose McClaren – Lara Jean's former crush who comes stumbling back into her life having turned out very well for himself. It's obvious from the get-go that he likes Lara Jean as much as Peter, and when Lara Jean realises Peter is hiding things from her, she's suddenly very confused. I honestly had no idea which boy was going to win in the end as both had great chemistry with Lara Jean and she loved both of them in different ways. Normally I don't like love triangles but I really liked this one! It wasn't clichéd, with one "bad boy" and one "good guy" – there was no way of telling who she was going to pick until they were picked.
Lara Jean is still an adorable character, and one I felt like a big sister to. She's coming out of her shell more, experiencing new things and taking bigger risks. Yet she's still very protective of her sisters, loves to bake and experiments with her clothes and hair. She deals with some bullying over a video that occurred in the previous book and I adored the way the author handled it. Lara Jean is not used to having attention on her, either good or bad, and suddenly all eyes are on her and she's the one being judged because she's a girl. It reminded me a lot of how girls are expected to be proper and classy and not show skin in public, whereas boys get congratulated and applauded when it's announced they have any sort of a sex life.
Despite how fast this book seemed, I really enjoyed it and thought it tied up incredibly nicely. Our characters have grown and they've gotten the ending they deserved. I would definitely recommend this book duo to anyone who loves contemporary reads or is looking for something fun to read after a particularly heavy book.