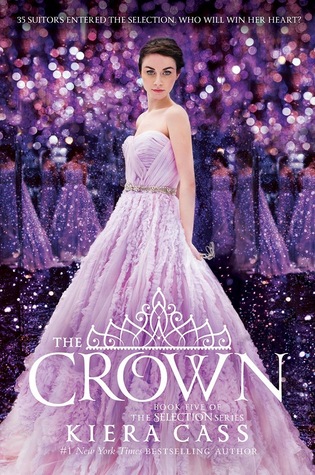 Book
: The Crown, Kiera Cass
Series
: The Selection, #5
Release Date
: May 3rd, 2016
When Eadlyn became the first princess of Illéa to hold her own Selection, she didn't think she would fall in love with any of her thirty-five suitors. She spent the first few weeks of the competition counting down the days until she could send them all home. But as events at the palace force Eadlyn even further into the spotlight, she realizes that she might not be content remaining alone.

Eadlyn still isn't sure she'll find the fairytale ending her parents did twenty years ago. But sometimes the heart has a way of surprising you…and soon Eadlyn must make a choice that feels more impossible—and more important—than she ever imagined.
You know when you finish a book with a ridiculously cute couple (in this case Maxon and America) and you dream up all these great scenarios about what a fantastic life they'll live together, the kinds of families they'll raise? But then the author goes and writes two new books exactly about the family they raised, and it's nothing you expected and all your wishes are dashed? Maybe this is a bit dramatic, but I feel this way about both The Heir and The Crown. My favourite things about both books is seeing Maxon and America so absolutely in love with each other, and of course the covers of both books. Because look at them!
Besides both of those points, I really didn't care much about Eadlyn or her Selection. I was curious as to who she'd end up with, as I had no idea at the end of The Heir, and it was nice to see her grow and develop as a person as well as a future queen, but other than that, my overall feeling over them is meh. Which is really quite sad as I thought the ending to The One was perfect and couldn't have been happier with it. I think I'd be happier pretending that was the true ending to this series and these books don't exist.
Eadlyn's Selection continues in this book as she attempts to find a suitor among her Elite boys that she wants to spend the rest of her life with. However, unlike with her parents, there isn't one boy who stands out among the rest (at least, not immediately), and I quite enjoyed seeing her sort through her feelings for each boy and try and figure out if she could spend the rest of her life with one. We also see her act as regent queen after her mother's heart attack.
I loved how she took this role so incredibly seriously. Eadlyn is very self-centred and spoilt. Knowing she's going to be queen got to her head and it didn't make her a likeable character; to me or the people of Illéa. But she's painstakingly aware of this in this book and tries her best to make decisions that would appease her people, and I really loved her development. She still isn't my favourite character ever, and I doubt she ever will be, but I can appreciate how Cass made her grow.
As for the romance… it's sweet. We see Eadlyn bond with all six boys remaining in the Elite and see her try and sort out her feelings for each one. There were three boys I had a really strong feeling Eadlyn was going to pick, and she did pick the one I had suspected. Did I have strong feelings between the two of them together? Not as strong as Maxon and America. Because Eadlyn also had to be romantic with other members of the Elite, we weren't given a lot of time for them to develop a really strong connection. The few moments we did get with them were genuine and sweet, but quite few and far in between.
My final verdict? I would skip this book, as well as The Heir, if I were you. They aren't as gripping as the first three books in the series, and the romance isn't as spellbinding. Remember, this is my personal opinion, so don't take it to heart, especially if you enjoyed this book or enjoyed The Heir. If you did, good for you! Maybe you'll get more out of this ending than I did. It just didn't satisfy me in the way The One did. That will be the true ending for me.