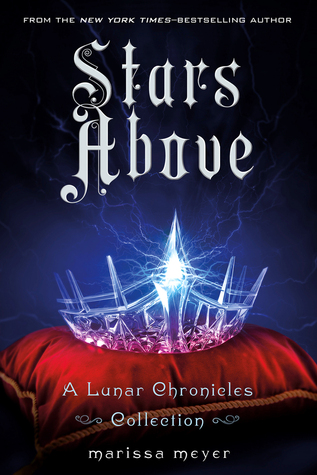 Book
: Stars Above, Marissa Meyer
Series
: The Lunar Chronicles series
Publisher
: Feiwel & Friends
Release Date
: February 2nd, 2016
The enchantment continues....
The universe of the Lunar Chronicles holds stories—and secrets—that are wondrous, vicious, and romantic. How did Cinder first arrive in New Beijing? How did the brooding soldier Wolf transform from young man to killer? When did Princess Winter and the palace guard Jacin realize their destinies?
With nine stories—
five
of which have never before been published—and an exclusive never-before-seen excerpt from Marissa Meyer's upcoming novel,
Heartless
, about the Queen of Hearts from Alice in Wonderland, Stars Above is essential for fans of the bestselling and beloved Lunar Chronicles.
This book is perfection. Absolute perfection. There's absolutely nothing bad I can say about it. Marissa Meyer knew what her readers wanted and wrote the best ending to this beloved series. Fans of the Lunar Chronicles will devour it and bring some much needed closure from Winter.
We get nine little tales in this book – one from each main character's point of view from a pivotal moment in their past and it gives a great insight into the type of character they are as well as answering some questions about said characters.
We get a story about Cinder when she first woke up as a cyborg and adjusting to life with her new family, and I really enjoyed seeing her bond with Peony and her stepfather as well as discovering her cybernetics and love for mechanics.
We also get a story about Scarlet's youth and how she came to live with her grandmother, and how her grandmother kept the world's best kept secret! We also saw Cress, Wolf and Thorne as children during pivotal moments in their childhood that affected the kind of people they turned out to be.
And not forgetting Kai – we saw him meeting Cinder for the first time with Nainsi and seeing him get flustered over our beloved mechanic was beyond adorable.
I know some people would've preferred more after-Winter stories instead of all the prequels, but I really enjoyed these. Sure, some of them weren't needed or necessary, but it gave us a deeper connection to each character individually and I know when I re-read the book's in the future (which is inevitable), I know I'll feel closer to each character and love them even more.
And now I must talk about the epilogue of the series, the one novella everyone was itching to get their hands on. Something Old, Something New brought all our favourite friends together for the wedding of the century, and it was the most satisfactory ending Meyer could've made, much more than Winter did. I won't give away whose wedding it is, as honestly, it could be any of our couples, but if you're anything like me, you'll squeal like a proud mama when the nuptials take place.
If you've loved the Lunar Chronicles, then you will adore this book of little stories. Just remember that eight out of nine of them are prequels and there is only one story set after Winter, if you were expecting more after-stories. And prepare to be saddened that once that final page is turned, this series will be truly finished forever.