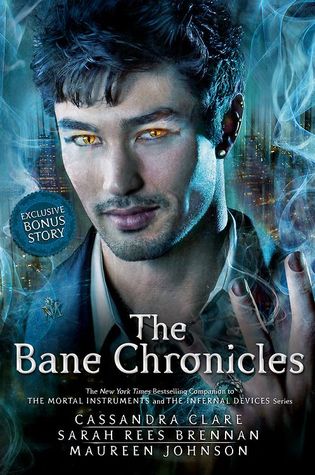 Book
: The Bane Chronicles, Cassandra Clare
Series
: The Bane Chronicles #1-11
Publisher
: Margaret K. McElderry Books
Release Date:
November 11th, 2014
Fans of The Mortal Instruments and The Infernal Devices can get to know warlock Magnus Bane like never before in this collection of New York Times bestselling tales, in print for the first time with an exclusive new story and illustrated material.
This collection of eleven short stories illuminates the life of the enigmatic Magnus Bane, whose alluring personality, flamboyant style, and sharp wit populate the pages of the #1 New York Times bestselling series, The Mortal Instruments and The Infernal Devices.
Originally released one-by-one as e-only short stories by Cassandra Clare, Maureen Johnson, and Sarah Rees Brennan, this compilation presents all ten together in print for the first time and includes a never-before-seen eleventh tale, as well as new illustrated material.
Magnus Bane. What else can I say?
With her recent release of The Tales of the Shadowhunter Academy, the (not bad) premiere of the TV show of Shadowhunters, and Lady Midnight coming out in mere weeks, it seems Cassandra Clare is everywhere. Her Mortal Instrument series are one of the most well-known YA book series of the decade, and I can't go into a bookstore without seeing at least one (or three) books from one of her many series based in this world.
And with Magnus being one of her more likable and popular characters, it's no surprise that this book was really quite enjoyable. It seems that any book that doesn't feature Clary and Jace as the two main characters is bound to be entertaining and fun.
And it was great seeing Magnus before the events of both The Mortal Instruments and The Infernal Devices. Seeing how certain events came about and how Magnus was a part of every one. The rise and fall of the Hotel Durmont, the New York home for vampires, the start of Raphael Santiago's immortal life, and of course anything and everything to do with the Herondales and Alec Lightwood.
Cassandra Clare is an excellent writer when her characters are wonderful, and she exhibits this wonderfully in these 11 short stories. The writing flows, I laughed out loud multiple times and felt overcome with feels other times.
You really get to know Magnus as a character through this book. He's the sassiest, best-dressed, sarcastic warlock known to man, but I also get a feel for why he's that way. In TMI and TID he was always mysterious, but after these novellas I feel I understand him way more. It also gave plenty of teasers for her other series, and I'm more hyped than ever to read Lady Midnight now.
These stories got my emotions in a tangled heap by the end. Each story was different, and made me feel different things. James Herondale's story made me cry, while the story about the Circle was truly heart-breaking (although Tessa at the end was awesome, as per usual), as well as funny stories when Magnus went to Peru, and downright adorable Malec moments when we see their first date!
Even though these stories are primarily Magnus's, we also get to see the growth of other characters too, with a different perspective which added layers to this world Clare created.
Anyone who loves Magnus Bane should definitely pick up this book as you'll just love it! However, it does give away plots and characters from TID and TMI, so I would suggest reading those first. This book will give you a great insight into the world of the Shadowhunters, one fans will truly enjoy.