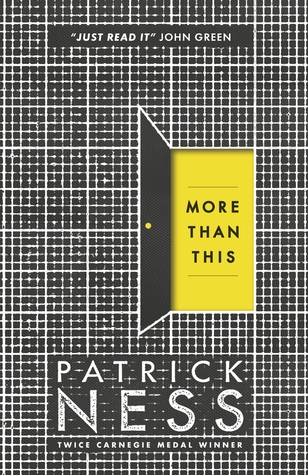 Book
: More Than This, Patrick Ness
Publisher
: Walker Books Ltd
Release Date
: May 1st 2014
A boy drowns, desperate and alone in his final moments. He dies.
Then he wakes, naked and bruised and thirsty, but alive.
How can this be? And what is this strange deserted place?
As he struggles to understand what is happening, the boy dares to hope. Might this not be the end? Might there be more to this life, or perhaps this afterlife?
From multi-award-winning Patrick Ness comes one of the most provocative and moving novels of our time.
Books are often described as 'mind-blowing' but this is one of the few books in which, while reading it, I have exclaimed aloud, 'Oh. My. God.' on multiple occasions … Just read it." – John Green
John Green's above review is what compelled me to pick this book up in Waterstones (besides that blurb, of course).
I'd never read Patrick Ness before, but this is definitely not the last I'll be hearing from him. You've just earned yourself a brand new fan, Patrick! Congratulations.
This book was mysterious beginning to end. I was constantly kept on the edge of my seat, with burning questions about the world, the characters, what was going to happen, everything.
It's hard to pick a specific genre for this book too. Ness throws a bit of everything in here: dystopia, sci-fi, thriller, mystery, romance… there's a nice variety and that was quite nice to read about. It does leave you agape at some points, and like John Green, I was exclaiming "Oh my God" a lot too.
Ness unfolds different aspects and parts of the story at different parts, which didn't make the book seem too rushed or confusing. It's really hard to reveal anything about the plot, as this is type of book you have to go into blind and just revel in the awesomeness yourself.
I will talk about the characters, though, as they're the best part. Let's start with Seth!
He's our main character. He's had a pretty hard life with a brother who is mentally ill and parents who've ignored and forgotten about him for most of his life. I loved the way Ness integrated his life throughout the book through flashbacks and reading about certain parts was so sad. He's a great character though; I really liked him and totally felt for him.
Tomasz is such a cutie, and one of the first people Seth meets when he wakes up. He's Polish, and even though he's younger he's so funny, I just want to hug him all the time.
Regine is the awesome badass girl every good YA book needs. She's the tough love Seth needs in his life; the slap in the face to wake him up. I would've loved to have read this from her POV, she's so incredibly well written. That attitude is everything, and she's been through so much and is still so strong… she's impossible not to root for.
These are the three main characters that you hear the most of, but there are plenty of other characters that are from Seth's life that I won't talk about for spoiler reasons. I loved how Ness created the flashbacks and glimpses into Seth's life to get a better feel for the person he is. And the writing style was great; with quick, short chapters that all had cliff-hangers of some kind so I found it so hard to put down!
This was a powerful, philosophical read with beautiful writing and wonderful, diverse characters you can't help but love. How does it end? Read and find out yourself.