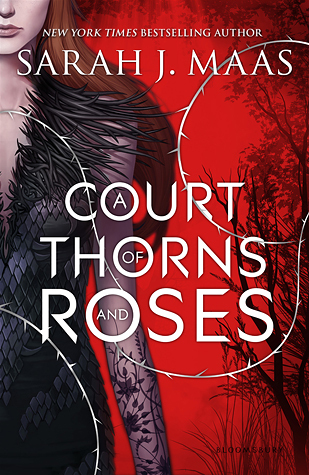 Book
: A Court of Thorn and Roses, Sarah J. Mass
Series
: A Court of Thorn and Roses #1
Publisher
: Bloomsbury Children's
Release Date
: May 5th, 2015
I love fairytale retellings. I love paranormal and fantasy. I love Sarah J Maas. So it generally makes sense that I would absolutely adore this book. And that is exactly what happened. I won't be able to watch Beauty and the Beast without picturing Feyre and Tamlin in place of Belle and the Beast!
Feyre comes from a poor family in a small village. On the edge of her village is a wall. Across the wall, there is a completely different world, one inhabited by faeries - High Lords, evil Queens, and Faerie Courts. While they have been kept separate from humans for years, it hasn't stopped rumours and stories leaking across of how evil and monstrous those faeries are, so that humans are petrified of what occurs across the wall. Maas created a world that was so immaculately detailed, and it was so easy to picture the world our characters were living.
This book has some of the bare elements of Beauty and the Beast – a curse, the girl having to go live with the guy, healing wounds, etc. but Maas takes a beloved story and twists it so much it becomes completely her own. Besides the wonderful world building and vivid descriptions, what made this book so incredible were the characters.
Feyre is our heroine. Coming from a poor family, Feyre has only known hardship in her life. She doesn't believe in hope and just wants to get through life one day at a time while having enough food on her family's plates. But when fate intervenes when she was out hunting one night, Feyre's life is changed forever when she is forced to live with a High Fae across the wall.
Not a lot happens in the first half of this book, but that just gives us more time for the characters to develop. While you can tell Feyre is an immensely strong girl due to the hardships she's been dealt, she also is very hesitant to open herself up to anybody, especially a faerie who kidnapped her. But throughout the book we see her grow out of her shell as she discovers that it's what's inside that counts, and the choices that they make, not what species they are. Anyone is capable of good and evil. She and Tamlin were AMAZING and I couldn't get enough.
Tamlin made it known that he was a badass and super powerful; someone to fear. But despite his badass attitude, he was also quite awkward and shy. Yet he still made me swoon every time he opened his mouth and he and Feyre's relationship developed slowly over the course of the book, until it was obvious they were simply made for each other. There was just no other option.
The second half of the book got a lot more exciting, with twists and shocks and bad choices being made that made me want to slap Feyre over the head while simultaneously giving her a big hug. An anti-hero is also introduced here: someone you hate at first and hopes he gets a horribly gruesome death, yet somehow wiggles his way into your heart and makes you question everything. Ladies and gentlemen, meet Rhysand.
While it didn't end on a cliffhanger (thank god), it did open up a lot of questions and possibilities for the sequel. Will there be a love triangle? While I despise them generally, I think a good author like Maas will be able to make her characters so likable and develop their relationships so well that the love triangle is actually necessary.
This book is the first in a fantastic new series by Sarah J Maas that incorporates all the elements from the Throne of Glass series we loved while also making something brand new and wonderful. I totally recommend fans of hers to pick this one up, especially if you're into romance and fairy tale retellings. It won't let you down, I promise.