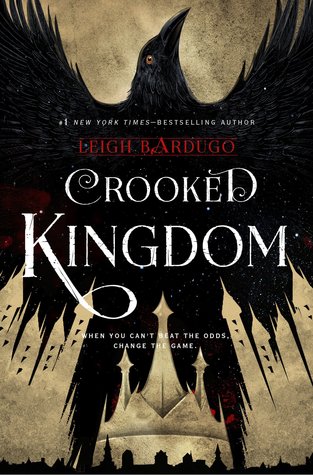 Book
: Crooked Kingdom, Leigh Bardugo
Publisher
: Henry Holt and Company
Release Date:
September 27th 2016
Welcome to the world of the Grisha.

After pulling off a seemingly impossible heist in the notorious Ice Court, criminal prodigy Kaz Brekker feels unstoppable. But life is about to take a dangerous turn—and with friends who are among the deadliest outcasts in Ketterdam city, Kaz is going to need more than luck to survive in this unforgiving underworld.























WARNING!! Spoilers in this review. If you don't want to be spoiled, please read the book and then come back!

As stated in my review for Six of Crows, I loved that book for its characters, more than the plot. And in Crooked Kingdom, I was able to get that (without the exposition introductions) and all of their interactions are easily my favourite parts of this book.

I also loved that Bardugo was so diverse in so many aspects of this book. Kaz was not your stereotypical anti-hero. He could be an absolute dick at times, constantly keeping his crew in the dark, scaring little girls, and just generally being a very cruel person. And yet, he wouldn't be Kaz without his cruelty and his secrets. He had serious PTSD and trauma from his childhood and he uses it to fuel so many of his actions. He has got a very long and hard road of recovery ahead of him, but the important thing is he is willing to heal. Bardugo looks at PTSD, disability, addiction and trauma, racial tensions and sexuality and handles everything beautifully.

And there were so many twists and turns in this book! Kaz always seemed to have a full-proof plan in place to exact his revenge on Van Eck for double-crossing them in Six of Crows, but every plan seemed destined to fail. But did Kaz ever give up? HELL NO. He always had another plan ready. Besides that, there was so much wit, snark, flirty and romantic moments and action! It was so great.

So why did it get dropped a star? I think it's because all those different plans Kaz had and all the set ups got really confusing at times! The plans always started off so straight-forward but by the time they were actually happening and it looked like it was failing except it was all according to plan..? I'm sorry, I just kept getting lost!
Also, because Matthias. Oh Matthias, my poor baby. Why, Leigh, why???? So uncool.

Besides that, it was the characters that really made this book for me. All their relationships together are simply phenomenal and all the romantic entanglements are completely appropriate for each couple. Nina and Matthias are super loved up which suits Nina's badass character down to the ground, whereas Inej and Kaz never even announce their love for each other by the end because Kaz still panics when he touches skin and Inej is still scarred from her time in the Menagerie. Wylan and Jesper have their ups and downs but the love and respect for each other is so clear in their interactions together.

Also, Nikolai Stormhund appeared!!! His scenes were easily my favourite because I missed him so; he was my favourite character in the Shadow and Bone trilogy. We see a couple more familiar faces that want to help out our crew, and seeing them was such a treat.

All of these characters grow and learn from each other, and while it isn't the happy ending I wanted, it was realistic for the story Bardugo was telling and it suited every character perfectly.

So, to end this trainwreck of a review, here are some of my favourite quotes from this book:

Wylan summoned every bit of bravado he'd learned from Nina, the will he'd learned from Matthias, the focus he'd studied in Kaz, the courage he'd learned from Inej, and the wild, reckless hope he'd learned from Jesper, the belief that no matter the odds, somehow they would win.

He would locate Nina. They would survive this night. They would free themselves of this damp, misbegotten city, and then … Well, then they'd change the world.

As they approached the next stall, the old woman tending to it looked up at Matthias with suspicious eyes. Nina nodded encouragingly at him. Matthias smiled broadly and boomed in a singsong voice, "Hello, little friend!"
The woman went from wary to baffled. Nina decided to call it an improvement.

(Nina) would put her hands on those glorious hips and demonstrate her knowledge of profanity in several different languages.