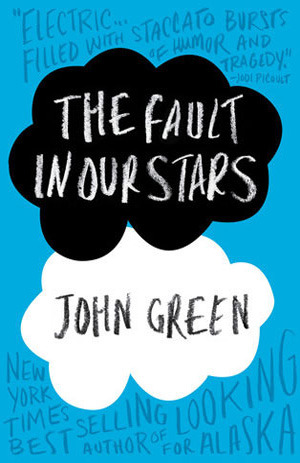 Book
: The Fault in Our Stars, John Green
Release Date
: September 21st, 2006
"I fell in love the way you fall asleep: slowly, then all at once."

Despite the tumor-shrinking medical miracle that has bought her a few years, Hazel has never been anything but terminal, her final chapter inscribed upon diagnosis. But when a gorgeous plot twist named Augustus Waters suddenly appears at Cancer Kid Support Group, Hazel's story is about to be completely rewritten.

Insightful, bold, irreverent, and raw, The Fault in Our Stars is award-winning author John Green's most ambitious and heartbreaking work yet, brilliantly exploring the funny, thrilling, and tragic business of being alive and in love.
I'd heard some great reviews for this book and after reading a sadly mediocre series just before, I had pretty high expectations of this book. And you know when you have high expectations of something; they nearly always end up disappointing you? Well, I'm ecstatic to say that that did not happen with The Fault in Our Stars.
It was fantastic, yet horrible. Amazing, yet saddening. John Green is able to punch you in the gut and make you feel all your emotions at once in the space of 313 pages.
Hazel Grace is a sixteen year old with cancer (stage IV thyroid cancer to be exact). Her lungs are crappy and so she has to cart an oxygen cart around with her wherever she goes. Because of this, Hazel doesn't leave the house much; instead spending her time watching awful reality TV shows with her parents. But when her (hovering) mother worries that she's getting depressed, she sends her to a support group for cancer kids. Hazel goes, only because she wants to make her parents happy. It is here where she meets Augustus Waters, a boy on remission from osteosarcoma, a rare form of bone cancer.
They connect instantly, with their similar witty banter, super-intellect, and fondness over metaphors. After Hazel shows him her favourite book, An Imperial Affection (a book about a girl with cancer), and Gus loves it as well, they decide to embark on a journey to find the author to ask him questions about the book's ending, as it finished mid-sentence.
However, during this journey, the two star-crossed lovers experience love, romance, and disappointment, and one of them hears absolutely heart-breaking news.
Honestly, I was expecting the book to end just like An Imperial Affection – mid-sentence. Of course, a lot of things happened in this book I wasn't expecting. That's just the genius-ness of John Green's work. He'll make you spear your emotions all over the wall by the time the final page is turned.
This book is full of witty remarks, lovable characters and heart breaking events. I order you to read this book, but have a box (or two) of tissues beside you when you do. Believe me, you'll need it.