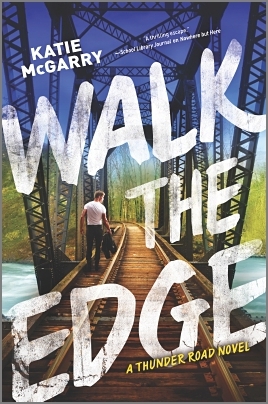 Book
: Walk The Edge, Katie McGarry
Series
: Thunder Road Series, #2
Publisher
: Harlequin Teen
Release Date
: March 29th, 2016
One moment of recklessness will change their worlds.
Smart. Responsible. That's seventeen-year-old Breanna's role in her large family, and heaven forbid she put a toe out of line. Until one night of shockingly un-Breanna-like behavior puts her into a vicious cyber-bully's line of fire—and brings fellow senior Thomas "Razor" Turner into her life.
Razor lives for the Reign of Terror motorcycle club, and good girls like Breanna just don't belong. But when he learns she's being blackmailed over a compromising picture of the two of them—a picture that turns one unexpected and beautiful moment into ugliness—he knows it's time to step outside the rules.
And so they make a pact: he'll help her track down her blackmailer, and in return she'll help him seek answers to the mystery that's haunted him—one that not even his club brothers have been willing to discuss. But the more time they spend together, the more their feelings grow. And suddenly they're both walking the edge of discovering who they really are, what they want, and where they're going from here.
This book is the reason why Katie McGarry is one of my favourite contemporary authors. Every book I've read of hers has been full of enrapturing characters, draw-you-in plots, and amazing chemistry and romance between our two main leads. I hadn't read a book of hers since Nowhere But Here came out last year, and starting this book was like coming home. I was pulled in by the first page and didn't want it to end.
This book is the continuation of Katie's world of the Reign of Terror motorcycle club. Basically, this is a series of companion novels following different members of the club. We had Oz and Emily in Nowhere But Here, and in this book it's Razor and Breanna's story. There was danger, action, steamy, romantic moments, and parts where I was struggling not to cry.
Razor is a full member of the Terror, and considers the other members part of his family – his brothers. However, there was always something holding him back from trusting them fully and relying on them when things got tough. This is to do with the death of his mother, and the fact that the club is completely tight-lipped about it. When Razor receives news surrounding the death of his mother, questions arise that the club refuse to answer, and this pulls Razor away from the people he's always considered family. When the club won't help him uncover the truth, he turns to someone else, someone who will listen and help him crack the code he's been given – Breanna Miller. She needs his help as well in finding out whom is blackmailing her and giving her hell at school. They agree to help each other, and they learn truths about themselves due to their circumstances that they weren't expecting.
I love Razor. He's definitely my favourite character in this world so far. He's so strong and protective and has no problem beating people up, but he's also so respectful and honest with Breanna. He had a lot of inner demons to fight in this book, and Breanna was the perfect person to help him shoulder his burdens. She understood him in a way no one else did, and I simply adored it. I read their scenes with a huge smile on my face.
Breanna is a very unique girl. Her brain works in a different way to most people. Once she has a puzzle to solve, she physically can't relax or do anything else until the puzzle is solved. She also remembers everything she reads, so she has tons of random facts stuck in her head. It means she's incredibly smart, too smart for the small town she's stuck in, and she's desperate to get out and find somewhere she belongs. She also comes from a big family, the fifth out of nine children, and in a family that large, she often gets forgotten. Her problems are passed over and her parents only look to her for babysitting her younger siblings. There was one scene where Breanna desperately needed her mom and really wanted to talk to her, but her mother was so busy with her older sister that all she was told was to do her chores and to mind her younger brothers and sisters. My heart genuinely broke for her. By getting to know Razor, Breanna finally begins to find a place she belongs. It was simply wonderful to read.
"He means what he says. Without knowing me…without really understanding me…he's already accepted me…he's suggesting I belong."
While honesty was an important theme in Nowhere But Here, trust and loyalty is the main theme in this book. Razor and Breanna both struggle with trust – trusting each other, trusting themselves. Razor has to learn to trust the club and come to them with his problems, and Breanna has to learn to be more open with her family. The club is surrounded with rumours about what they do, and Breanna has to look past all that to see what they're truly about.
All in all, I simply adored this book and Razor and Breanna. They're perfect for each other and helped the other face their demons and see the light at the end of the tunnel. I just cannot wait for the next book, and any other books Katie brings out in the future, as I know they're going to be amazing.