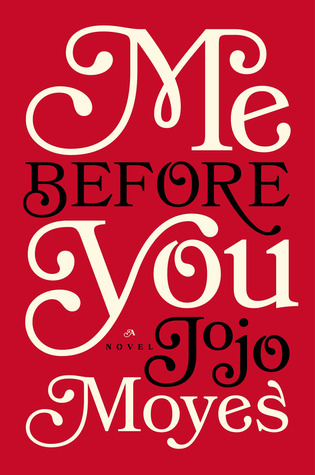 Book
: Me After You, Jojo Moyes
Publisher
: Pamela Dorman Books/Viking
Release Date
December 31st, 2012
Lou Clark knows lots of things. She knows how many footsteps there are between the bus stop and home. She knows she likes working in The Buttered Bun tea shop and she knows she might not love her boyfriend Patrick.
What Lou doesn't know is she's about to lose her job or that knowing what's coming is what keeps her sane.
Will Traynor knows his motorcycle accident took away his desire to live. He knows everything feels very small and rather joyless now and he knows exactly how he's going to put a stop to that.
What Will doesn't know is that Lou is about to burst into his world in a riot of colour. And neither of them knows they're going to change the other for all time.
I'll be honest – I didn't see this book until I realised I was going to be in the cinema. When I saw that, I looked up a bunch of reviews that most of them stated not to read because of spoilers, or else that this book is emotionally crippling and will make you re-evaluate your life.
So… warning! There will be spoilers in this review. I'll try not to, but for a book like this, it's impossible to avoid spoilers. All I will say is read it. Read it without knowing what it's going to be about, read it even if you're not particularly a big fan of contemporary books. Read this book and be completely enlightened. Realise that, even if you think your life is so stressful, at least you can walk. You can dress yourself. You can give the person you love a hug. Realise how lucky you are and bless yourself for it every single day.
Louisa Clark is our upbeat, optimistic protagonist. She had just lost her job at a café, has a boyfriend who prefers running marathons and doesn't seem to notice her anymore and is feeling the weight of trying to earn money to help her family's lack of income. I really loved Louisa's narrative and felt I could really relate to her.
Even on paper, she sounds so delightfully English and despite all the bad things that seem to happen to her all at once, she doesn't lose her quirkiness, her bright, colourful clothing and overall upbeat outlook on life. When she gets a job being a carer for a man who is quadriplegic, she has no idea that her life will be changed forever.
Will Traynor was a man who seemed to have it all. He had a successful career, beautiful girlfriend, and travelled all over the world on exotic trips – sky diving, parasailing, mountain climbing, you name it. And then a freak accident occurred and suddenly Will is reliant on everyone around him to feed him, dress him, put him to bed… and all he can do is sit there. This has turned him into a grumpy, bitter, angry man. And can you blame him? I certainly can't. With the outgoing life he used to live, I'm not surprised he took his accident so harshly. And he certainly didn't ask for a strange, talkative woman to come in everyday to help look after him.
Suffice to say, Will and Lou's relationship is quite rocky at the start. No matter how hard Lou tries, she just can't break the wall that Will has built around himself. But I loved it. Because throughout the six months she was employed there, she starts to put little holes in Will's wall, so small you wouldn't even notice. Until he starts smiling and laughing at what she says, and looks forward to seeing her every day. And through Will's extravagant past life, Lou begins to find the travelling bug deep inside her and want to live life to the fullest.
I'm not going to say any more about the plot of the story, because it's best to go into this blind and experience the emotions head on. This book is simply wonderful and will make you think and evaluate your life long after you've turned the final page.