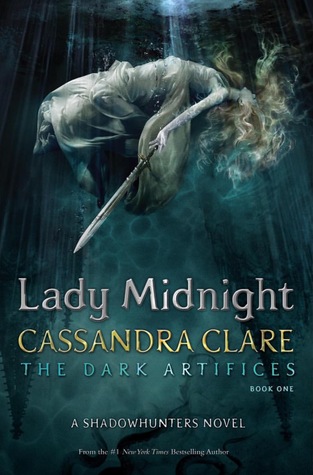 Book
: Lady Midnight, Cassandra Clare
Series
: The Dark Artifices #1
Publisher
: Margaret K. McElderry Books
Release Date:
March 8th, 2016
The Shadowhunters of Los Angeles star in the first novel in Cassandra Clare's newest series, The Dark Artifices, a sequel to the internationally bestselling Mortal Instruments series.
Lady Midnight
is a Shadowhunters novel.
It's been five years since the events of
City of Heavenly Fire
that brought the Shadowhunters to the brink of oblivion. Emma Carstairs is no longer a child in mourning, but a young woman bent on discovering what killed her parents and avenging her losses.
Together with her parabatai Julian Blackthorn, Emma must learn to trust her head and her heart as she investigates a demonic plot that stretches across Los Angeles, from the Sunset Strip to the enchanted sea that pounds the beaches of Santa Monica. If only her heart didn't lead her in treacherous directions…
Making things even more complicated, Julian's brother Mark—who was captured by the faeries five years ago—has been returned as a bargaining chip. The faeries are desperate to find out who is murdering their kind—and they need the Shadowhunters' help to do it. But time works differently in faerie, so Mark has barely aged and doesn't recognize his family. Can he ever truly return to them? Will the faeries really allow it?
Glitz, glamours, and Shadowhunters abound in this heartrending opening to Cassandra Clare's Dark Artifices series.
I have just finished this huge beauty and my mind is still reeling from it. I'll be the first to complain that Cassandra Clare is milking the Shadowhunter world for all it's worth with the amount of series she's bringing out, but she still manages to bring huge shocks, twists and turns, and wonderful characters with every instalment.
The first series I read, The Mortal Instruments, set up this world with Clary and Jace. Then she went back into time to introduce us to Tessa, Will and Jem. And then forward past to 2012 and we have Emma and Julian.
I adore the Blackthorn family so much. They were introduced in City of Heavenly Fire and I remember loving their chapters way more than Clary and Jace's. So having a book based entirely on their family, especially one this large, was great and was so wonderful to read.
Its set five years after The Dark War, and Emma and Julian have changed a lot, and in some ways, haven't changed at all. After his older brother Mark was sent to the Wild Hunt and his sister Helen exiled due to their faerie heritage, Julian has assumed the role of parent to his four younger brothers and sisters. While I adore his character and how different he was to Clare's other male protagonists, he also broke my heart into a thousand tiny pieces. He turned into a parent at the tender age of twelve, a role he was wholly unprepared for, but I adored how well he stepped up to the plate and became a father figure for his siblings. He thinks of them as his children rather than his siblings, and he's had to keep secrets to protect his family, and make incredibly hard choices. He was strong and protective, but also a sweet, gentle soul who deserves so much than what he got.
Emma was a badass heroine who still had lots of anger left over from the unfair death of her parents. She was strong, protective, reckless, sassy, determined; so perfect to carry on the Carstairs name. She loves the Blackthorn family like they were her own, and they pretty much adopt her. I loved her so much and can't wait to see more of her in the coming books.
Then there are the Blackthorn siblings: Mark, Helen, Ty, Livia, Dru and Tavvy. I haven't read a book with such a big family in a while, and I loved how Clare made them all unique with their own personalities. Mark is sweet and clueless; confused as to whether he is a faerie or a Shadowhunter, not knowing where he belongs. Livia and Ty have the best twin bond ever, constantly helping each other and reassuring each other. As Ty is extra special and doesn't always understand social cues or conventions, I love how he will always have Livia to understand him. Dru is at the awkward tween age where she's conscious of her body, getting crushes, trying to find her place in life. She has so much growing up to do and she doesn't have the patience to wait. Then Tavvy, the youngest, was so innocent, I just wanted to grab him and keep him safe in my arms. He wanted to help so desperately, but was too young to do much. I love them all so much!
This book ties back to the Mortal Instruments as the past characters are mentioned (and some show up!) and the events of The Dark War are not easily forgotten. However, it also has a plot completely its own; which is woven in mystery. I was guessing who and what and where constantly, and I still had to stop and take a breath when one mystery was uncovered.
While the plot is an important aspect of this book, so are the relationships and characters. We get an in-depth look at how Emma and Julian have grown in the past five years, and how the events in the Dark War shaped the people they've become. Having become parabatai, their bond is closer than ever, and they constantly stand on the precipice between platonic love and romantic love; the latter of which is forbidden when parabatai. We see them both struggle with their feelings, the judgement of right and wrong, and it was so sad to read.
"Being told it is forbidden does not kill love. It strengthens it."
Cassandra Clare has truly matured as a writer and you can see it with this book. While she may be milking this world for all its worth, she still comes out with some fine series with wonderful characters. I'll still read her books anyway because I love this world so much, and if you're a fan of TMI and TID, then you'll love this book too.