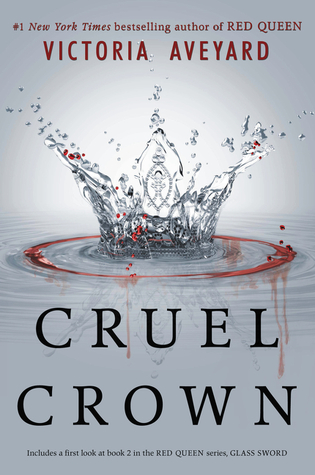 Book
: Cruel Crown, Victoria Aveyard
Series
: Red Queen #0.1, 0.2
Release Date
January 5th, 2016
Two women on either side of the Silver and Red divide tell the stories no one else knows.

Discover the truth of Norta's bloody past in these two revealing prequels to #1 New York Times bestseller Red Queen.
Queen Song
Queen Coriane, first wife of King Tiberias, keeps a secret diary—how else can she ensure that no one at the palace will use her thoughts against her? Coriane recounts her heady courtship with the crown prince, the birth of a new prince, Cal, and the potentially deadly challenges that lay ahead for her in royal life.
Steel Scars
Diana Farley was raised to be strong, but being tasked with planting the seeds of rebellion in Norta is a tougher job than expected. As she travels the land recruiting black market traders, smugglers, and extremists for her first attempt at an attack on the capital, she stumbles upon a connection that may prove to be the key to the entire operation—Mare Barrow.
Cruel Crown is a book of two novellas set before Red Queen: Queen Song, which tells the story of how Cal's mother Queen Coriane met the king and the courtship. Steel Scars tells the story of Farley in the Scarlet Guard and how the meeting of a certain Barrow changes her perspective of Reds and Silvers. I'm going to split this review into two parts to make it easier.
Queen Song:
I loved this novella. Seeing a Silver from a Silver's POV was a great variation to read, and Coriane was as great as Cal and Julian both made her out to be. It tells the story of Coriane's life before she met the prince and how they fell in love. I thought she was great protagonist and would've loved a longer story about her. She and Tibe were great together; they truly loved each other for who they were, not their titles. People resented Coriane for becoming Queen without going through Queenstrial and this resulted in some enemies, one of which is Elara, who we meet in Red Queen.
The ending left me quite curious about her death and how Elara ended up becoming queen when she and the prince barely spent any time together. I would love a bit more detail about Coriane's reign of queen. It was still a really enjoyable novella and a great insight into Silver life.
Steel Scars:
the narrator of this novella is Captain Farley, the 22 year old Captain of the Scarlet Guard whom we meet in Red Queen. I really wanted to like this novella, and I was hoping we'd see how Farley came into the Scarlet Guard, but it was really just different assignments and how she meets Shade and Mare Barrow, two unique soldiers who'll change the revolution. I won't lie; I'm half-shipping Farley and Shade together! I'm hoping we'll get more development between those two in Glass Sword.
This novella wasn't as good as Queen Song, but still an acceptable story to the series.
Overall, I enjoyed these novellas. While I preferred Queen Song over Steel Scars, I'll always enjoy stories to this series.