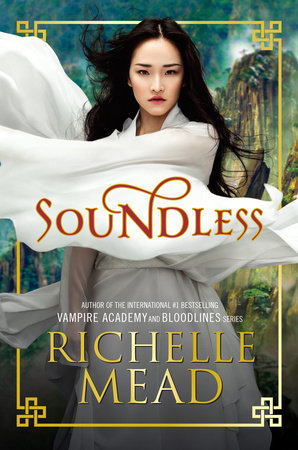 Book
: Soundless, Richelle Mead
Release Date
: November 10th, 2015
From Richelle Mead, the #1 internationally bestselling author of Vampire Academy and Bloodlines, comes a breathtaking new fantasy steeped in Chinese folklore.

For as long as Fei can remember, there has been no sound in her village, where rocky terrain and frequent avalanches prevent residents from self-sustaining. Fei and her people are at the mercy of a zipline that carries food up the treacherous cliffs from Beiguo, a mysterious faraway kingdom.

When villagers begin to lose their sight, deliveries from the zipline shrink and many go hungry. Fei's home, the people she loves, and her entire existence is plunged into crisis, under threat of darkness and starvation.

But soon Fei is awoken in the night by a searing noise, and sound becomes her weapon.

Richelle Mead takes readers on a triumphant journey from the peak of Fei's jagged mountain village to the valley of Beiugo, where a startling truth and an unlikely romance will change her life forever...
I hadn't read a Richelle Mead book in months, and I'd heard quite varied and interesting things about this book, so I was looking forward to reading more from the author of two of my favourite series. The verdict? Really good! It's a stand-alone novel, quite short at only 265 pages, about one girl's quest to save her village's people from starvation from a ruthless king.
Mead took a really unique twist with this book: all the characters are deaf, and communicate through sign language. When Fei wakes up after a strange and vivid dream and discovers she can now hear, she discovers that she's now the only one who can escape her small village atop a mountain to climb down and get help, as she's the only one who can hear falling rocks. I loved the way Mead described sound; you never really think about trying to describe what sound is like to someone who was born deaf, but I thought it was wonderfully done.
I will admit, the story is quite short, and the action is few and far in-between. Despite this, however, I quite enjoyed the story and following Fei's physical journey down the rocky and treacherous mountain into the townland below, as well as the psychological journey for Fei as she struggles to find hope for a future for her people, as well as adjusting to life with sound and words.
People may not like the fact that the story is a simple and predictable one, as well as the fact that it's a stand-alone. I do appreciate the fact that Mead went out of her comfort zone with writing about Chinese folklore, as well as writing about a community that cannot hear. We don't have enough of that in Young Adult fiction, and I think Mead did a great job with it. Maybe it will encourage other writers to expand their horizons to create such obstacles for their characters.
The lost star is for the predictability and shortness of the book. It's very easy to read and could be done in a day easily. I still enjoyed the story and would recommend it to those who enjoy Mead's work, and Chinese folklore.