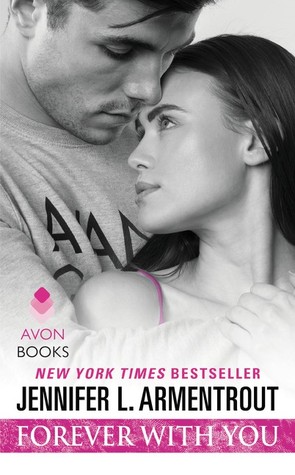 Book
: Forever With Me, Jennifer L Armentrout
Release Date
: September 29th, 2015
In the irresistibly sexy series from #1 New York Times bestselling author Jennifer L. Armentrout, two free spirits find their lives changed by a one-night stand…
Some things you just believe in, even if you've never experienced them. For Stephanie, that list includes love. It's out there. Somewhere. Eventually. Meanwhile she's got her job at the mixed martial arts training center and hot flings with gorgeous, temporary guys like Nick. Then a secret brings them closer, opening Steph's eyes to a future she never knew she wanted—until tragedy rips it away.
Nick's self-assured surface shields a past no one needs to know about. His mind-blowing connection with Steph changes all that. As fast as he's knocking down the walls that have kept him commitment-free, she's building them up again, determined to keep the hurt—and Nick—out. But he can't walk away. Not when she's the only one who's ever made him wish for forever . . .
Rating: 5 stars
*Just a disclaimer, don't read this book halfway and then read the summary, because there is a spoiler. I made that mistake and so I knew the ending.*
I flew through this book. Like, I had it finished within a day because it was such a powerfully emotional book dealing with very tough themes.
This book deals with Nick and Steph, two characters we'd met in the previous books. We knew a bit about Nick as he worked the bar with Roxy and Calla, but all we knew was that he was very mysterious with a lot of secrets. Steph had gone to college with both Calla and Teresa, and was known because she had slept with the previous books' love interests. What Nick and Steph both had in common was they were both on the one-night-stand-train with no hurry to get off.
While we think we know these characters, Jen has, as usual, worked her magic and created a depth to these characters we thought we understood.
Steph is fresh out of college, and has a lot of plans with her life. She's got a new job, and plans on working her way up the corporal ladder as she gains experience. She has a lot she wants to do with her life – travel the world and hopefully find someone who loves her as much as her parents loved each other. However, she believes that unless she meets someone who is "the one", then what's the point in relationships? It's better to have no strings attached than getting your heart broken.
Nick is the mysterious bartender we'd already met in Stay With Me and Fall With Me, the one I knew had a lot more going on than he was showing. I knew Jen had a lot of plans with him, and we get to see a totally different side to him in this book. We understand why he's so distant and why he only has one-night-stands; his almost "fear" of relationships is explained and you feel so much closer to his character because of it.
After meeting each other, Steph and Nick's lives are irreparably changed. Their lives start heading in a direction neither expected, but was actually needed. Their situation is totally unforeseeable, and I was so surprised at the turn Jen made. It was a very unusual and uncommon route to take, but I think Jen handled it incredibly well and very realistically. For Steph, this turn is scary that rocks her world and all the plans she made. But after coming to terms with it, she and Nick start a wonderful journey while they attempt to walk down the twisty road together. I loved how they leaned on each other and how supportive Nick was for Steph. Their relationship blossomed slowly, with them learning about each other throughout the book and becoming closer because of it. Neither of them is any good at relationships, so Steph often has moments of self-doubt where she wonders if she and Nick would even be together if they weren't forced. There were moments of stupidity where she drove Nick away because of these doubts, but she quickly realised her errors, and she never drove Nick that far away. He always came back.
The ending was still emotionally charged and so, so rough. This is the first book I've read that covers topics like this, a topic that is rough around the edges that has different reactions. While the ending had a light at the end of the tunnel for our characters, no one walked away unhurt.
Jen wrote a topic that is very realistic and can be quite relatable for a lot of women today. It's not given that much attention as it's a very tough thing to talk about. No one can stay strong after something like this happens, and as Jesse J says, "It's okay not to be okay." While it's a topic I can't relate to personally, I'm glad Jen wrote it and that it's out there for others to read about. This will be a tough read for anyone who has gone through what our characters have experienced, and I hope that it helps them get through any lingering hurt they're still facing.
This book, and Be With Me, are my two favourites in this series. They both deal with incredibly hard situations, but our main characters persevere regardless, and you can't help but admire their strength. Jen has added a great addition to this series, and I can't wait to meet two new characters that I know I'll love just as much in her next instalment.