Book
: The Boy Most Likely To, Huntley Fitzpatrick
Release Date
: August18th, 2015
A surprising, utterly romantic companion to My Life Next Door—great for fans of Sarah Dessen and Jenny Han
Tim Mason was The Boy Most Likely To find the liquor cabinet blindfolded, need a liver transplant, and drive his car into a house
Alice Garrett was The Girl Most Likely To . . . well, not date her little brother's baggage-burdened best friend, for starters.
For Tim, it wouldn't be smart to fall for Alice. For Alice, nothing could be scarier than falling for Tim. But Tim has never been known for making the smart choice, and Alice is starting to wonder if the "smart" choice is always the right one. When these two crash into each other, they crash hard.
Then the unexpected consequences of Tim's wild days come back to shock him. He finds himself in a situation that isn't all it appears to be, that he never could have predicted . . . but maybe should have.
And Alice is caught in the middle.
Told in Tim's and Alice's distinctive, disarming, entirely compelling voices, this novel is for readers of
The Spectacular Now
,
Nick and Norah's Infinite Playlist
, and Paper Towns.
Rating: 3.5 stars
I loved My Life Next Door, it's one of my favourite contemporary reads. So when I discovered the author was writing a sequel from Tim's POV - Tim, the alcoholic, sarcastic, dick-you-can't-help-but love - I was SOOO excited.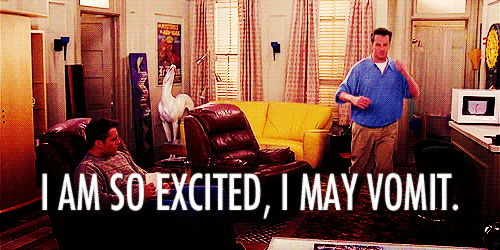 His was the happy ending I wanted more than anything, the character I believed DESERVED a happy ending more than anything. And maybe the fact that there was a long wait between MLND and this book, and I had the hype built up in my head of what I wanted to happen, what I hoped would happen, I'd practically
written the book myself.
The result?
Don't get me wrong, I enjoyed the story... it just didn't pique me like My Life Next Door did. While Alice and Tim had some lovely moments, it wasn't as romantic as Sam and Jase. Instead of a light, summer read with romance, I got a complicated story full of complications, heartache, and a romance that was barely there.
It just wasn't the romance I wanted for Tim and Alice. There was more of a focus of Tim's growth as a man due to unforeseen circumstances rather than Tim and Alice's relationship growing together.
We knew Tim was a bit of a mess, and he used humour as a defence mechanism to hide his true feelings, but deep down you knew he meant well but things never seemed to be going his way.
Alice is his opposite - a control freak, who has to control everyone and everything. However, she can't control Tim, and her growing feelings for him, and they scare the hell out of her. I will admit the few genuinely sweet and moments between these two were swoon-worthy.
However, there seems to be a lot going on, between all of Tim's family problems, and Alice trying to keep her family together. It was hard to get attached to one subplot before another one would be thrown at us.
However, the theme of family in this book is still huge, and we of course get more of the Garrett children, and they were by far my favourite part of the
book.
George never failed to amuse me and make me want to cuddle him.
However, they too were overshadowed by the amount going on in this book.
Maybe I expected too much of this book; I mean the author was trying to go in a different direction as Tim's voice is very different to Samantha's. I'm still glad I read it and My Life Next Door will stay on my shelf as one of my favourite contemporary reads. Tim's story deserves to be told, and read, just as much as Sam's.