Hi all!! I'm back. I'm sorry I was MIA for a small while, I was volunteering in South Africa for two weeks - I only came home on Saturday! There was next to no internet where I was staying so there was no way of updating my blog or Goodreads while I was away. But I had an absolutely amazing time, want to go back again, but I am now ready to go back to real life and everything it beckons. And with that comes the reviews of the Grisha trilogy which I finished while in Africa!
*****************************************************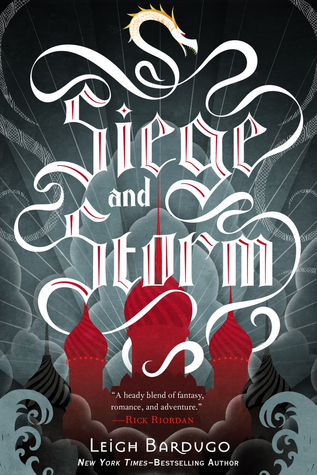 Book
: Siege and Storm, Leigh Bardugo
Series
: Shadow and Bone #2
Publisher
: Henry Holt and Company
Release Date:
June 4th 2013
Darkness never dies.

Hunted across the True Sea, haunted by the lives she took on the Fold, Alina must try to make a life with Mal in an unfamiliar land. She finds starting new is not easy while keeping her identity as the Sun Summoner a secret. She can't outrun her past or her destiny for long.

The Darkling has emerged from the Shadow Fold with a terrifying new power and a dangerous plan that will test the very boundaries of the natural world. With the help of a notorious privateer, Alina returns to the country she abandoned, determined to fight the forces gathering against Ravka. But as her power grows, Alina slips deeper into the Darkling's game of forbidden magic, and farther away from Mal. Somehow, she will have to choose between her country, her power, and the love she always thought would guide her--or risk losing everything to the oncoming storm.

I completely fell head over heels in love with the world of the Grisha in Shadow and Bone and couldn't wait to get back into this world, especially with how Shadow and Bone ended.
It's been a few weeks since I finished this book so I can't go into huge detail about everything that's happened (sorry) but I did absolutely love it, I do know that much.
But I can sum up why I adored this book in one word: Nikolai.
I mean, need I go on? The pirate cough privateer cough is so snarky and loveable and amazing that I was beaming ear to ear every time he appeared on the page. He was completely confident and at ease with who he was and never once apologised for it.
Alina is still struggling with her new role and she goes through so much emotional turmoil and challenges, yet her strength and perseverance and love of her country allowed her to come out swinging and never let herself give up.
And between herself, Mal and the Darkling… sigh. The Darkling came out as the official villain at the end of Shadow and Bone and despite the connection between Alina and the Darkling; I can't see anything happening romantically between them. This makes me really sad though, because even though Mal is obviously the one who is best suited for Alina, it is impossible not to get shivers every time Alina and the Darkling are together.
"I've seen what you truly are," said the Darkling, "and I've never turned away. I never will. Can he say the same?"
No matter what, I will always root for the misunderstood villain. They can be so much more relatable than the perfect-without-faults good guy.
I know this review is all over the place, so I'm sorry, but basically, this world and story is definitely one getting invested in and I'm really enjoying the journey I'm being taken on.
*****************************************************
Book
: Ruin and Rising, Leigh Bardugo
Series
: Shadow and Bone #3
Publisher
: Henry Holt and Company
Release Date:
June 17th 2014
The capital has fallen.

The Darkling rules Ravka from his shadow throne.

Now the nation's fate rests with a broken Sun Summoner, a disgraced tracker, and the shattered remnants of a once-great magical army.

Deep in an ancient network of tunnels and caverns, a weakened Alina must submit to the dubious protection of the Apparat and the zealots who worship her as a Saint. Yet her plans lie elsewhere, with the hunt for the elusive firebird and the hope that an outlaw prince still survives.

Alina will have to forge new alliances and put aside old rivalries as she and Mal race to find the last of Morozova's amplifiers. But as she begins to unravel the Darkling's secrets, she reveals a past that will forever alter her understanding of the bond they share and the power she wields. The firebird is the one thing that stands between Ravka and destruction—and claiming it could cost Alina the very future she's fighting for.
Wow. I can't believe some of the reviews on GR for this book. I mean, I get it, in a way. It must be next to impossible to write an ending that is realistic, while not being too perfect, which satisfies everyone. I didn't even know how I wanted this book to end for the most part.
At the start I was rooting for Alina and Nikolai to rule as king and queen despite not being romantically linked toward each other, but when those that ever happen in a YA book? Even though it happened all the time in real life royal history, you'll never see it in YA fantasy.
I don't want to spoil exactly what happened, but my exact feelings are… meh. I don't hate it, I don't love it. I'm squarely in the middle of neutral-ville. I'm not rating this book for its ending; I'm rating it in spite of it.
So let's move past the controversial ending and onto the book itself and its characters. Alina has been such a fantastic heroine. She has grown so much from that ordinary, skinny, grumpy girl we first met into a powerful, confident and strong leader who knows what she's capable of and what she needs to achieve. She was far from perfect, and made some decisions I didn't agree with sometimes, but that imperfection made her that much more likeable, and completely drove her away from Mary Sue territory.
This book had me guessing and confused until the very end, and even at the end I wasn't sure what to expect. It completely kept me on my toes and I absolutely loved it for that! Mal and Alina's relationship, while not my favourite YA couple, is still full of love and commitment even though you weren't always sure how they were going to survive.
The Darkling was amazing as usual, and despite how terribly evil he was, it was impossible not to feel drawn to him most of the time. Did his ending suit his character? I don't know. I feel Leigh Bardugo tried to be as realistic as possible while still pleasing fans, and while I love to imagine a "perfect ending" for all these characters, I know I'm never going to read that unless I write it myself or read about it in fanfiction.
Nikolai is still the most snarky, arrogant, fantastic character in this world and I hope he appears in Six or Crows, or is at least mentioned! I have no clue what that duology is about except that some agree it's even better than this trilogy. I don't know how that will be, but I'll soon find out!
All in all, I adored this trilogy and I'm not ready to leave this world yet. Read it if you love fantasy, kickass characters and magic. It won't let you down.