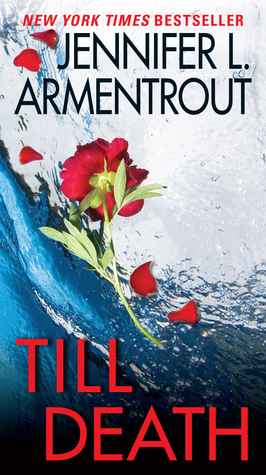 Book
: Till Death, Jennifer L. Armentrout
Publisher
: William Marrow
Release Date
: February 28th, 2017
In New York Times bestselling author Jennifer L. Armentrout's gripping new novel, a young woman comes home to reclaim her life—even as a murderer plots to end it. . .


It's been ten years since Sasha Keaton left her West Virginia hometown . . . since she escaped the twisted serial killer known as the Groom. Returning to help run her family inn means being whole again, except for one missing piece. The piece that falls into place when Sasha's threatened—and FBI agent Cole Landis vows to protect her the way he couldn't a decade ago.

First one woman disappears; then another, and all the while, disturbing calling cards are left for the sole survivor of the Groom's reign of terror. Cole's never forgiven himself for not being there when Sasha was taken, but he intends to make up for it now . . . because under the quirky sexiness Cole first fell for is a steely strength that only makes him love Sasha more.

But someone is watching. Waiting. And Sasha's first mistake could be her last.

I say this about every book of Jennifer's, but it's always such a pleasure coming back to her writing after some time away. This book reminded me a lot of The Dead List, another book by Jen. It's got mystery, and murder, and the fallout of being a victim of a serial killer. It deals with the emotional damage that something like that can do to a person. But while The Dead List mainly dealt with stalkers, and was young adult, this book is most definitely adult. There are some very sexy scenes between our main character and the love interest, as well as some very adult themes. Despite that, it was still great. Jen handles all of these different elements in a really good way.
Our main character, Sasha, was kidnapped when she was nineteen. Out of all the women kidnapped during that time, Sasha was the only one to survive. And this takes a serious emotional backlash on her. She's hesitant to get close and open up to anybody, and it drives her away from her hometown and her family and friends for ten years. The book begins when Sasha finally has the courage to face her past and come home to help her mother run the family inn.
Sasha was a great character. Being the only one to survive a serial killer left her needing years of intensive therapy to accept what had happened. By the time she returns home, while she's still coping with the past, she also has tools to help her deal with it. Not to say that she still isn't suffering, and will probably continue to suffer for the rest of her life. But she was really strong, and never let it define who she was as a character. She would no longer be a victim, and I loved that about her.
Sasha isn't even home a day when weird things start happening to her, like vandalisms and disappearances of people she knows. It's eerily similar to what happened ten years ago, and you can't help but wonder if it's a coincidence or not.

Despite this, Sasha still has a multitude of people at her feet. One of these includes Cole.
Just like every one of Jen's love interests, Cole was amazing. He was, according to Sasha, "the most beautiful man I'd ever seen." He was completely buffed up, and so strong, and all he wants to do is keep Sasha safe, no matter what. He and Sasha had a history, in that they had met in college, but grew apart after what happened.

It never stated how long they had been going out, but it was long enough for the two of them to connect to each other, and carve a place in each other's hearts that was never replaced. When she comes back, Cole finds her almost straight away, and it's impossible not to feel the chemistry and heat between them. Even though the words are never said, they are each other's soul mates, other halves, both part of the same soul. There was never anybody else. Despite the fact that this book takes place over a week, by the end, they, like us, know that what they have is forever.
What we learn, through the events of this book, and through their relationship, and Sasha's relationships with her friends and family, is that having someone to love, to rely on, will help you get through difficult times. That's what helps Sasha through this. I don't know how she never had a nervous breakdown to be honest. So many terrible things happen, in the space of a week, and yet, Sasha continues to keep her head above water, and I believe that's because she always had someone helping keep her afloat.
I would definitely urge you to pick this up if you're into mysteries, and romance, or if Jen's an auto-buy author, like she is with me. You're going to love this, and it's not too long either, and everything is resolved by the end. It's just a really enjoyable book.