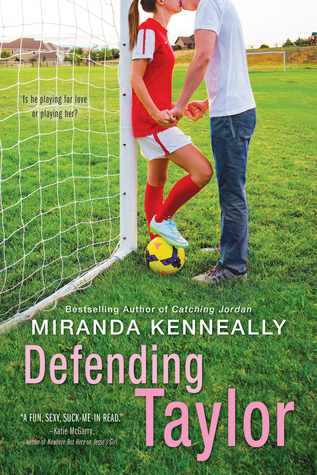 Book
: Defending Taylor, Miranda Kenneally
Series
: Hundred Oaks series #7
Publisher
: Sourcebook Fire
Release Date
: July 5th, 2016
There are no mistakes in love.

Captain of the soccer team, president of the Debate Club, contender for valedictorian: Taylor's always pushed herself to be perfect. After all, that's what is expected of a senator's daughter. But one impulsive decision-one lie to cover for her boyfriend-and Taylor's kicked out of private school. Everything she's worked so hard for is gone, and now she's starting over at Hundred Oaks High.

Soccer has always been Taylor's escape from the pressures of school and family, but it's hard to fit in and play on a team that used to be her rival. The only person who seems to understand all that she's going through is her older brother's best friend, Ezra. Taylor's had a crush on him for as long as she can remember. But it's hard to trust after having been betrayed. Will Taylor repeat her past mistakes or can she score a fresh start?
I adore coming back to Miranda Kenneally's world of students attending Hundred Oaks High School in Tennessee. Even after seven books, her characters are always wonderfully unique, with stories that are quite relatable and real. There are no supernatural occurrences, no princesses or kings or evil witches attempting to destroy mankind in this world. It makes it so great to read that I got this book finished on a lazy Sunday afternoon with the house to myself and a cup of tea and my dogs by my side.
This book tells the story of Taylor, a girl who was the hard-working, soccer-loving daughter of a Senator. Appearances are everything when you're related to a Senator, so Taylor always tries to be the good girl and doesn't do anything wrong or risky. That is, until she nobly takes a fall for her boyfriend that resulted in her being kicked out of her prestige private school and attending Hundred Oaks. Now she has to deal with the aftermath of doing the noble thing by facing disappointed parents and trying to cover up a lie which, if discovered, would make the whole situation worse.
I'd read lots of other books where the main character is trying to cover up a lie and we all know that if it was uncovered, everything would go horrifically wrong. And usually, the lie is uncovered in the worst way possible. But despite seeing this type of trope before, it didn't make it any less enjoyable to read, and still relevant in today's world.
Taylor struggles fitting in with the other girls in her school, but she still attempts to talk with them, and she still tries out for the soccer team, something she's always loved and has kept her grounded. She's always known what's expected of her – top notch grades, impressive extracurricular activities, and attending Yale before working at her family's investment firm. It doesn't even occur to Taylor if this is what she wants – it's what's expected.
Miranda Kenneally delves deep into what happens when someone's expectations clash with their heart. Coming from a prestigious family, you're expected to go to the best schools and uphold the family's name. But what if that's not for you? Taylor's parents are completely focused on her father's re-election campaign, and Taylor's lapse in judgement makes them lose respect and trust in her. She's forced to start at a new school with no friends and is still expected to attend an Ivy League college – even though her father refuses to help her get in there, although he helped her older siblings get into their schools. Despite all these hardships, Taylor finds she does have one ally – her best friend's older brother, Ezra. She'd been in love with him for years, and the chemistry between them is palpable. When they start spending lots of time together, fireworks go off. And Ezra's the only person who is there for Taylor and helps her see that she doesn't have to do what's expected of her.
What I also loved was the glimpse we got of past characters and seeing their happily ever after.
It's not necessary to read the previous books before reading this, as even all the books in this series is set in the same school, they all have very separate stories and characters that are all individually resolved at the end of each book. If you like this one, give the others a try. Every one of them features strong, athletic girls that stand up to their beliefs, even if they're different, and all are incredibly likable. They also deal with family dynamics of all shapes and sizes. Besides that, and perhaps most importantly, they are all hugely enjoyable, especially if you like contemporary books.