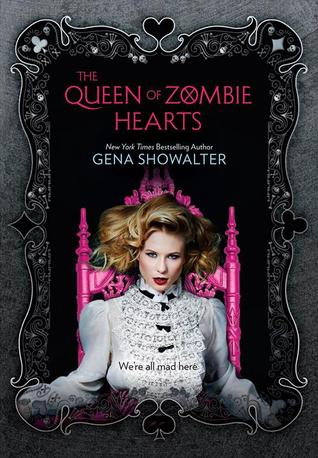 Book
: Queen of Zombie Hearts, Gena Showalter
Series
: White Rabbit Chronicles #3
Publisher
: Harlequin Teen
Release Date
: September 30th, 2014
I thought I had nothing left to give. I thought wrong. They started the war. Now I will end it.

In the stunning conclusion to the wildly popular White Rabbit Chronicles, Alice "Ali" Bell thinks the worst is behind her... until Anima Industries, the agency controlling the zombies, launches a zneak attack, killing four of her friends. It's then she realises only the worst has only begun.

As the surviving slayers prepare for war, Ali discovers she, too, can control the zombies... and she isn't the girl she thought she was. She's connected to the woman responsible for killing — and turning — her boyfriend's mother. How can their relationship endure? As secrets come to light, and more slayers are taken or killed, Ali will fight harder than ever to bring down Anima — even sacrificing her own life for those she loves
.
With the first two books being so successful and entertaining, it was no surprise that this book too, kept me on the edge of my seat. The war between Anima and our heroes of zombie slayers is coming to a close, and we have no idea how our heroes are even going to win when they keep continuing to lose.
Ali is still a great protagonist, portraying a funny and entertaining narrative throughout. Just like in the first two books, I found myself laughing out loud more than once and enjoying the trip she was taking me on. She's still just as snarky, stubborn, brave and loving as she always is, going at any lengths to protect her loved ones from Anima's evil deeds. If there was one thing I didn't like about Ali in this book, it was her jealousy. She and Cole are finally together again with no "second-book drama" getting in the way of their happy ending. However, any time Ali sees Cole talking to another girl Ali's green-eyed monster appears and begins coming up with ways of how to kill or maim that poor girl who – let's face it – only wants to take a look at Cole's man candy, as it's obvious he's the best looking of all the zombie slayer lads. I mean, if Ali was that secure about her relationship with Cole, why did she get so jealous even though Cole adores the ground she walks on and wouldn't dream of cheating on her?
However, besides the exaggerated jealousy, Cole and Ali were the cutest couple in this book. They were constantly reminding each other how much they loved one another and Showalter provided plenty of hot, steamy make out sessions between the two. All the boys in this book actually are extremely dedicated to their women, so much so that I got an animalistic vibe off them and that the girls were objects for the boys to own and not allow to share with anyone. Even though Ali fought equally with Cole on the battle ground, off the battle ground nothing stopped him from stamping his claim when other guys checked her out. I can't say I mind, though, as alpha males in these books are extremely attractive.
There are quite a few deaths in this book as it's the final showdown, some of which were heart breaking, and some I could deal as they weren't given a load of page time to begin with. However it was a constant guessing game as to who was going to go as there were so many slayers in this book.
Ali gets a visit from a woman named Helen who is a Witness (a Ghost, like her little sister Emma) who claims she only wants to help her by giving her new abilities to help against the zombies. However Cole and the slayers are adamant that Helen is not to be trusted and Ali should stay away from her. And when Helen is discovered to be closer to Ali than anyone realised, Ali gets pulled in different directions as she struggles to decide against Cole's loving advice, or her own heart.
I also liked the introduction to River and the other slayers, as we get to see how different they were to Ali and Cole's gang. They were grey when Ali and Cole were black and white, but it was a nice change and perspective as to how people react to the zombies.
This book was very exciting and a great ending to the series (even if some parts were a little sugar-coated and ended too perfectly, but who am I to complain when it got everyone their happy ending?)