Well, welcome to my stop on the train :) Before we get into this review, be sure to check out the previous stops:
Lauren at
Always Me
@
Future Shock
by Elizabeth Briggs
Ashley at
What's She Reading?
will be reviewing
Open Road Summer
by Emery Lord tomorrow, and I can't wait to see her review!
Also, be sure to call by Brittany's blog
Space Between the Spines
on June 8th for the final stop on the review train as well as a giveaway!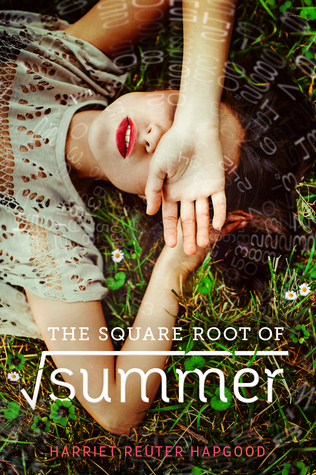 Book
: The Square Root of Summer, Harriet Rooter Hapgood
Publisher
: Roaring Book Press
Release Date:
May 3rd, 2016
This is what it means to love someone. This is what it means to grieve someone. It's a little bit like a black hole. It's a little bit like infinity.

Gottie H. Oppenheimer is losing time. Literally. When the fabric of the universe around her seaside town begins to fray, she's hurtled through wormholes to her past:

To last summer, when her grandfather Grey died. To the afternoon she fell in love with Jason, who wouldn't even hold her hand at the funeral. To the day her best friend Thomas moved away and left her behind with a scar on her hand and a black hole in her memory.

Although Grey is still gone, Jason and Thomas are back, and Gottie's past, present, and future are about to collide—and someone's heart is about to be broken.

With time travel, quantum physics, and sweeping romance, The Square Root of Summer is an exponentially enthralling story about love, loss, and trying to figure it all out, from stunning debut YA voice, Harriet Reuter Hapgood.
This book made me so, so confused. Which is making writing this review very difficult. Because this book was well written but so confusing! I can't even tell if I liked it or not. It was just… so maths-y. Just physics and wormholes and equations and time jumps… And coming from someone who despised maths with a passion in school, it's hard to enjoy a book that had that much maths in it.
So what's the story?
Seventeen-year-old Gottie has spent the entire school year living in a shroud of mourning. The end of the previous summer brought the death of her grandfather Grey, who practically raised her after her mother died. Jason, her first love, left for college shortly after the funeral without a word of goodbye, along with her brother. Alone with her grieving father, Gottie retreated inside herself, refusing to communicate with anyone. Now, with the start of another summer holiday, her brother and Jason are back, and the best friend who disappeared from her life five years ago has suddenly returned. That best friend, Thomas, and Gottie were inseparable when they were twelve but five years of non-contact means Gottie doesn't know how to feel about his returning. And with the one year anniversary of her grandfather's death approaching, and the reappearance of so many important people in her life, Gottie starts retreating into her mind, and physics, suddenly reliving important moments of her past.
Yet despite the amount of maths and wormholes and reliving the past, this book also had cakes, and tea, and fun, well-rounded characters. It's set in England, which is always a nice aesthetic change from American settings, or fantasy settings. The characters are German and use German phrases and foods. Always a nice change! Our main characters are human, aka not perfect. They're selfish, and rude, and don't always say the right thing. But that just made them that much more relatable. Gottie is only seventeen; she's not supposed to have all of life's answers, despite how great she is at maths. Her brother was in a band which is cool, her best friend Thomas bakes and because of this I fell in love instantly. And Gottie is falling out of a friendship with another girl, which is not something that happens a lot in YA, at least for me. The main character nearly always has a best friend that she can rely on, and seeing Gottie attempt to mend this friendship but know that that awkwardness will never really clear was quite refreshing.
Despite this, however, it was still quite confusing. All the maths made question marks appear constantly around my head! Hells, if you enjoy maths and understand it, then read this and explain it to me, because I certainly don't get it. This book also featured dealing with grief, and I would've liked more scenes with the grandfather so we could get a better feel of his character and so I could grieve along with the characters.
All in all, this book is both good and bad, thus the 3.5 stars when I normally don't do halves. I really liked the characters, and the way the author dealt with death was really well done. I just think if the maths element was better explained so I wasn't as confused, it would've brought the rating up to a solid four.