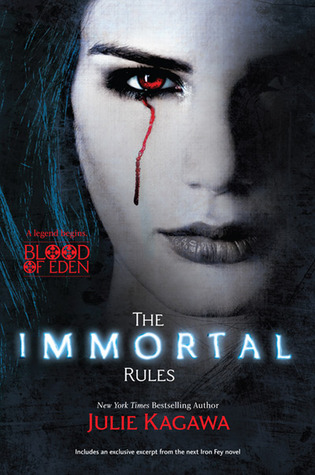 Book
: The Immortal Rules, Julie Kagawa
Series
: Blood of Eden series #1
Publisher
: Harlequin Teen
Release Date
: April 24th, 2012
Anyone who knows me knows I love vampires. It started off with Twilight, and then eventually spread to Vampire Academy and Bloodlines. And with the reviews from this series, I had high hopes for this book. And it was just beautiful. Julie Kagawa recreates her own version of the vampire world with a unique twist that was great to read and learn more about.
We start off in a world where humans are prey to a vampire kingdom – with a vampire Prince and everything. They have made it impossible for anyone who isn't a vampire to live normally and comfortably. Every day is a struggle for food and staying alive in a world that seems to want you dead. Allie (or Allison, I'm not sure which is the preferred as both is used often) is our protagonist, a human living in a vampire city and fights every day to have enough food for herself and other humans she resides with. When most humans have lost that spark to stay alive and hopeful, she hasn't. I liked her immediately and felt I connected with her. She was tough and practical and did what she needed to survive. She was tough to those who needed to see the light but would also do whatever she could to save those she cared about. She knows the dangers of where she lives, and yet she will battle every day to survive, even braving the wall between the Fringe (her home) and the Inner City (where the vampires live.) The main rule of living in the Fringe? Never get caught. Allie knows this rule better than anybody, but then the unspeakable happens. What comes next is a blur of pain, evil rabids (kind of like zombie vampires) and a pair of dark, dark eyes, asking Allie if she wants to live or die.
Then Allie's life changes forever. Even in the face of the evil monster she fears the most; Allie chose to live, so she became a vampire. I completely admire Allie for loving her life so damn much that she would become something she hated just so she wouldn't die.
What follows next is a battle against light and dark, dark and darker, human and vampire. It's full of witty remarks, near-death experiences, love, betrayal, death. Despite living a non-human life, Allie struggles to hold onto her humanity even when she's drinking the blood of some unsuspecting victim. She meets the vampire who created her, who teaches her the way of the vampire life, as well as a human who still believes there is something better out there if you just keep believing.
I loved every character in this book and everything was described wonderfully. This book was dark, creepy, addicting and just plain awesome. I would totally recommend any vampire, dystopian or Julie Kagawa fans to pick this up because you will not be disappointed.