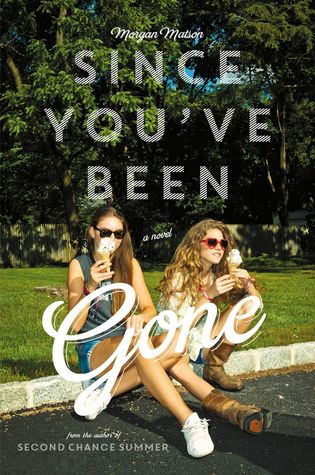 Book
: Since You've Been Gone, Morgan Matson
Publisher
:
Simon & Schuster
Release Date
: May 6th, 2014
It was Sloane who yanked Emily out of her shell and made life 100% interesting. But right before what should have been the most epic summer, Sloane just…disappears. All she leaves behind is a to-do list.

On it, thirteen Sloane-inspired tasks that Emily would normally never try. But what if they could bring her best friend back?

Apple picking at night? Okay, easy enough.

Dance until dawn? Sure. Why not?

Kiss a stranger? Um...

Emily now has this unexpected summer, and the help of Frank Porter (totally unexpected), to check things off Sloane's list. Who knows what she'll find?

Go skinny-dipping? Wait...what?
I read Morgan Matson before and really enjoyed it. So when I saw this book in my local library, I just grabbed it without thinking because I'd remembered how much I had enjoyed The Unexpected Everything. And this book has cemented Morgan Matson as one of my favourite contemporary authors and one of my must-read authors. Congratulations, Morgan!
What I love most about her books is that romance is never the priority in her stories – it is there, and is super cute – but it's never the focus of the story. The growth of the main character is always the most important, and I simply adore that. Being able to actually read about character development and see our main character, Emily, evolve because of her circumstances is what made me love this book so much.
This book is about love, but not romantic love – friendship love. Emily had a best friend, Sloane, whom she would do everything with – these two were never separated. And it was clear Sloane was the leader – the more confident one who could keep a conversation going and think of fun activities to do, while Emily followed along quite willingly, not contributing much to the conversation in groups but comfortable regardless. And when it was just the two of them, they could talk for hours without running out of topics, and even had silent conversations using their eyes.
Then one day, Sloane disappears. Without a word, suddenly her house is deserted and she's not answering her phone. All she left behind for Emily is a list, thirteen things to do that Sloane knew Emily would be too afraid to do by herself. But Emily is convinced that if she completes every item on this list, it will somehow lead her back to her best friend.
This book was just so amazing! I will admit, it was a little slow to get into, but once I did I could not put it down! Emily is forced to come out of her shell without Sloane there to guide her and we see her make new friends and realise she can have fun without Sloane by her side. Her character development was simply phenomenal to read about and her growing relationships with Frank, Collins and Dawn were so realistically done.
My favourite aspect is probably the fact that romance is the last thing on anybody's mind in this book, and our couple in question don't even properly get together until the very last page. I hate when some authors feel they need a romantic plot in their book, as it just distracts from the awesomeness of the original story, and Morgan Matson understands this completely. The focus of this book is the friendships, not romantic relationships.
I would recommend this to anyone searching for a contemporary book to read full of character development and beautiful relationships.