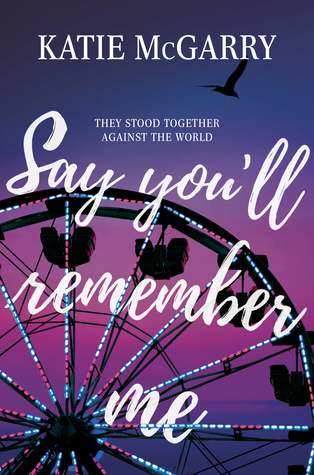 Book
: Say You'll Remember Me, Katie McGarry
Series
: stand alone
Publisher
: Harlequin Teen
Release Date
: January 30th, 2018
When Drix was convicted of a crime--one he didn't commit--he thought his life was over. But opportunity came with the new Second Chance Program, the governor's newest pet project to get delinquents off the streets, rehabilitated and back into society. Drix knows this is his chance to get his life back on track, even if it means being paraded in front of reporters for a while.
Elle knows she lives a life of privilege. As the governor's daughter, she can open doors with her name alone. But the expectations and pressure to be someone she isn't may be too much to handle. She wants to follow her own path, whatever that means.
When Drix and Elle meet, their connection is immediate, but so are their problems. Drix is not the type of boy Elle's parents have in mind for her, and Elle is not the kind of girl who can understand Drix's messy life.
But sometimes love can breach all barriers.
Fighting against a society that can't imagine them together, Drix and Elle must push themselves--Drix to confront the truth of the robbery, and Elle to assert her independence--and each other to finally get what they deserve.
Katie McGarry is one of my auto-buy authors. Whenever I hear she's releasing a new book I will immediately add it to my TBR and wait oh so impatiently for its release!
I knew to expect a beautifully tragic, emotional but ultimately heart-warming tale that would pull at my heart strings, because I've read all her previous books and know what type of writer she is.
And that is exactly what I got. I got pulled into the story of Elle and Drix and found myself rooting for their happy ever after and for them to find the absolutions they spent the entire book searching for.
Our two characters here are Elle and Drix, two people from opposite ends of the spectrum in terms of home life and security, but, just like all of McGarry's couples, are the epitome of opposites attract. When Elle is drowning in a life of impossible perfection, Drix is the hand that pulls her out of the water and allows her to finally breathe. And in a world where everyone dictates his every move, Elle is the one that allows Drix to finally have some control over his life.
Drix had an extremely troubled childhood with absentee parents, and his hard life eventually led to him spending the last year of his life paying for a crime he didn't commit, all to save his best friend. That selfless act already cemented his place in my heart. Finally being brought back to reality, Drix is a different person than when he left. And throughout this book he discovers who this person is, with the help of Elle. He found a familiarity with her that he couldn't find with his friends and family.
While Elle is finding herself in the public eye with her father in politics, and being judged on everything she says and does, not just by the public, but by her parents. They say she's too young to be making decisions herself and that they know best, but they are emotionally manipulating her and it's slowly but surely driving a wedge in her soul that is threatening to take her completely.

"Elle, it's okay."
That's the thing— it's not okay. I'm seventeen years old, I don't know who I am, and I don't have any idea how to get my parents to take me seriously. I'm trapped, and I can't breathe. - Elle
Like with all McGarry books, we get multiple points of view between both characters, and I love that we got to see inside both their heads and experience two unique looks at the same situation. Their romance was a slow-burning one but with a finale that was so worth the build up! There are also lots of possibilities of spin offs with these side characters (which is something I know McGarry loves to do – there is so much possibility with both Drix's sister and Elle's cousin, either together or separately!!)
Either way, Say You'll Remember Me is not a contemporary to be missed. If you love Katie McGarry, and a story about doing what's right, no matter what, and staying true to yourself, then you will absolutely love this!
*ARC kindly provided by Inkslinger/Harlequin Teen via Netgalley in exchange for an honest review*