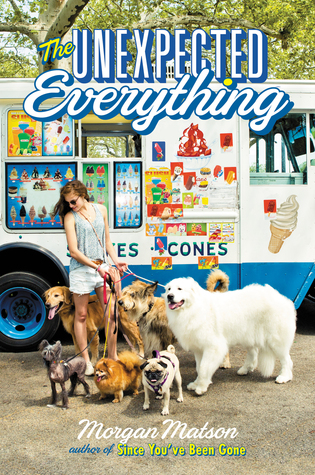 Book
: The Unexpected Everything, Morgan Matson
Series
: stand-alone
Publisher
:
Simon & Schuster Books for Young Readers
Release Date
: May 3rd, 2016
Andie had it all planned out. When you are a politician's daughter who's pretty much raised yourself, you learn everything can be planned or spun, or both. Especially your future. Important internship? Check. Amazing friends? Check. Guys? Check (as long as we're talking no more than three weeks).

But that was before the scandal. Before having to be in the same house with her dad. Before walking an insane number of dogs. That was before Clark and those few months that might change her whole life. Because here's the thing—if everything's planned out, you can never find the unexpected. And where's the fun in that?
I'm just going to say this. I was unexpectedly delighted by this book! I heard so many good things about it when it first came out, but I never got around to reading it. And when I did, I'd forgotten what the story was about; I only remembered that it had received really good reviews. And I completely agree with all of them! It was simply a delight to read.
Andie Walker is a girl that has her summer – like her life – all planned out. She had a medical internship in Johns Hopkins to go to and her amazing friends that were never leaving her side. Everything was going according to plan, and that was just the way Andie liked it. But of course, life doesn't work that way, and in a blink of an eye suddenly Andie's summer plans are changed irrevocably. However, like the title suggests, sometimes unexpected can be good. And that's what Andie learns this summer.
"I could do this. If whole galaxies could change, so could I."
This starts when she gets a new part time job walking dogs, and she meets Clark, the owner of one those dogs. These two were beyond the cutest. Have you ever read a book where the love interest is described as insanely attractive, completely buff, and our heroine falls for him completely? And there's usually hatred at first which slowly turns into love? Yeah, me too; way too many times.
GUESS WHAT! This has none of that!
Clark is described as cute, but attractive. And he is pretty socially awkward as well; all stuttering and no eye contact for their first few encounters.
But that made their relationship all the sweeter when we have an incredibly realistic, slow building friendship build between the two. There's no insta-love; it takes a very sick dog throwing up chocolate, forcing Andie and Clark to stay up all night to watch him, for these two to bond. And even then, there's build up for all the little things, from hand-holding to their first kiss. Even toward the end, there's no guarantee they'll last forever. But no matter what, they will look back at their relationship with a fondness and know that they changed the other for the better.
What I also loved about this book was the focus on friendships. Andie has three best girl friends that are there for each other no matter what. The love these girls have for each other gave me such warm fuzzies! Every time there was a group text I couldn't help this goofy smile. It's not even just about friendship between girls; it tackles the bond between father and daughter. At the start Andie and her father, who is a politician, are practically strangers living in the same house. But when a scandal causes Dad to stay home for the summer, their relationship builds slowly over John Wayne movies and ice cream at three am. And again, it was built so naturally throughout the book.
While there is one predictable minor plot point toward the end regarding a love triangle between two of Andie's friends, the way it was resolved was definitely not what I was expecting, but again, was completely realistic! There was no magic wand and a cure to make things perfect again. It brought the message home that change doesn't have to be bad, just different.
This book was about Andie's growth as a person; learning to let go of her tight, controlling reigns on relationships and keeping everything the same, by realising that change is sometimes necessary. Happiness was also very important, and I just loved it.
I would recommend this to anyone looking for a perfect, happy summer read, especially if you like contemporary. You'll love it.