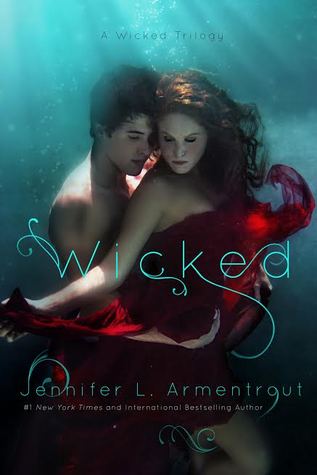 Book
: Wicked, Jennifer L. Armentrout
Series
: The Wicked Saga #1
Publisher
: Entangled Teen
Release Date
December 8th, 2014
Rating: 4 stars
Note: This book is NA, not YA*
Jennifer L Armentrout is one of my favourite authors, and she did not disappoint with this book. It had all the elements I love in a JLA book: supernatural entities, romance, likable characters and a really attractive setting.
Ivy is a 22 year old girl who, to the outside world, appears to be a normal young adult just trying to find her way in the world. She goes to college, loves coffee, and appears to be a nice, normal girl. However, Ivy was born into a very secretive organisation, one that raised her to fight against fae, a supernatural being from the Otherworld that loves to cause trouble and feed on unsuspecting humans. Ivy, along with a lot of other people she works with, help protect the humans of New Orleans by destroying these fae on a daily basis. Everything seems to be going smoothly until Ivy finds a fae that is unaffected against her weapons, and is a lot more powerful than anything she's ever faced. To help fight these ultra-powerful fae, in swoops a nice hunk of green-eyed man candy in the form of Ren. Ren specialises in a special form of protection against supernatural entities, something Ivy is clueless about. These two form a super close bond as they attempt to defeat the evil in New Orleans.
Ivy was a great character. She was as hot-headed as the colour of her wild wavy locks, and was not afraid to give somebody a piece of her mind if she felt they were in the wrong. She's had a traumatic past, and she's experienced way too much sadness than she deserves. Because of this, Ivy is afraid to let anyone close to her in case she loses them and has to experience that loss all over again. She and Ren hit it off right away, as Ren is one of the only people who'll stand up to her but also helps break down her defences. However, as she grows closer to Ren, she starts to freak out that something bad is going to happen and it was really interesting to read as she fought against her head and her heart.
What I also thought was interesting and a nice touch was the unique fact that both Ren and Ivy are human, fighting against the supernatural. In JLA's previous books I've read, normally we have one character who falls in love with a supernatural character, so having both characters human was a nice change and made the romance that much more fascinating to read.
Ren and Ivy's romance is a slow-building one, due to Ren's mysterious past and Ivy's mistrust against opening her heart again. But I loved reading about it and my heart swelled every time these two were on the page.
I also have to give a shout out to Tink, a tiny paranormal creature called a brownie that is all of us inside (eating, sleeping, quoting Harry Potter. You know you've all done it at least once!) He was hilarious and so entertaining. I won't be able to eat a brownie without thinking of him.
The setting was also beautiful, and a nice variation to our usual small town settings. JLA described New Orleans wonderfully, and has really made me want to visit there someday.
While the ending was somewhat predictable, it was still great and exciting and has definitely made me itchy for the sequel. JLA, you continue to amaze me and prove why you are one of my favourite authors. Keep them coming!